Photo Gallery
Kansas Football vs. Oklahoma State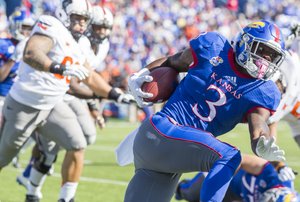 Images from Kansas' home football game against Oklahoma State, played Saturday, Oct. 11, 2014 at Memorial Stadium.
Podcast episode
Kansas University football interim head coach Clint Bowen talks about his team's improvement, and the breakdowns that allowed Oklahoma State to win, 27-20 — most notably, Tyreek Hill's 99-yard touchdown return on a kickoff after KU tied the game in the fourth quarter. Plus, plenty more from Bowen on the ...
OKLAHOMA STATE 27, KANSAS 20
Mike Gundy agreed with a media member who said Oklahoma State's 10th-year football coach had to be "thankful" Kansas University decided to kick deep to speedy Tyreek Hill in the fourth quarter of a tie game Saturday in Memorial Stadium.
"Sure," Gundy said in response to the reporter's comment. "We were struggling on offense so much."
Former Garden City Community College standout Hill, who returned a kick for a score last week against Iowa State, took the kickoff 99 yards for the deciding touchdown with 6:43 remaining in the Cowboys' 27-20 victory.
"I'm guessing the one before they kicked it, he (OSU deep man) caught it, and his momentum carried him into the end zone. (But) they had the offsides," Gundy said, speculating KU kicked deep because of a Trevor Pardula kickoff that indeed pushed the Pokes' return man into the end zone earlier. "I guess they thought ... I don't know what they thought, but, yeah, it was the first time they kicked to him (Hill)."
Gundy had a good feeling shortly after Hill fielded Pardula's deep drive.
"When he got in the open field, even if there's people in front of him, it doesn't matter," Gundy said. "I guess somebody could tackle him, but chances are they won't. He's so much faster than everybody else, it's hard to corral him and get a feel for what angle to take to tackle him."
Hill, a 5-foot-10, 185-pound junior from Pearson, Georgia, was not made available for interviews as OSU does not let first-year players speak with the press after games.
Gundy, whose No. 16-ranked Cowboys improved to 5-1 overall and 3-0 in the Big 12, credited KU's defense for holding OSU to 275 yards to KU's 379.
"Now, Kansas plays better on defense than people think, and they've done it for a number of years," Gundy said. "They have good schemes, little bit different looks, and they understand them. They make some decent plays. Their corners cover the deep ball well.
"We knew coming in that this could very well be as good a defense as we've played this year with the exception of the first game (Florida State). We felt they could be every bit as good as everybody we played (Missouri State, UTSA, Texas Tech, Iowa State) except that first team, and that's based on that first team's speed."
OSU senior Desmond Roland rushed for 87 yards off 21 carries and scored on a 33-yard burst as the Cowboys beat KU for the fifth straight time and 10th time in the last 11 meetings. OSU has won six in a row in Lawrence.
"We never got a sense of panic. We just talked to each other and said somebody has to make a play," Roland said of the mood at 20-20. "Lucky for us, we have the fastest man in the Big 12, and he made a play for us, and it was a great job by the blocking scheme on special teams."
Of Hill's demeanor before the big kickoff return, Roland said: "He was getting a little frustrated (at KU hitting pooch kicks instead of kicking deep most of the game). He always wants the ball in that situation. He had his chance today, and he made the most of it."
The Cowboys left town respecting the Jayhawks (2-4, 0-3).
"Kansas had a great scheme for us, and they came out with the momentum and played well," OSU receiver Jhajuan Seales said.
"Kansas is a really good team, and we're just happy we were able to get the win," noted linebacker Ryan Simmons.
More like this story on KUsports.com