Photo Gallery
Kansas Football vs. Oklahoma State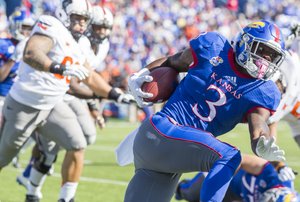 Images from Kansas' home football game against Oklahoma State, played Saturday, Oct. 11, 2014 at Memorial Stadium.
Podcast episode
Kansas University football interim head coach Clint Bowen talks about his team's improvement, and the breakdowns that allowed Oklahoma State to win, 27-20 — most notably, Tyreek Hill's 99-yard touchdown return on a kickoff after KU tied the game in the fourth quarter. Plus, plenty more from Bowen on the ...
OKLAHOMA STATE 27, KANSAS 20
Kansas University football coach Clint Bowen knew it was coming, but did not realize it would be anything like it was.
Before Saturday's 27-20 loss to No. 16 Oklahoma State, nearly 200 former Kansas University football players joined the KU band and spirit squad to form a giant K and tunnel at the south end of Memorial Stadium designed for this year's Jayhawks to walk through as they took the field. After the game, Bowen expressed what the gesture meant to him.
"They came to support our team. They came to support Kansas," Bowen said. "I know our players took note of it and appreciated it and I'm thankful for those guys for showing up and I'm thankful for our players for giving 'em a good show."
KU captains Ben Heeney, Nick Harwell and Cassius Sendish were the first to see the line of supporters and they high-fived several former Jayhawks on their way out to the coin toss. The rest of the team followed closely behind and did the same before sprinting onto the field.
"I had no idea they were gonna be lined up like that for us to run through," Heeney said. "It was awesome that those guys came and showed their support for us. They were saying a lot of good stuff. One guy, I don't know who it was, yelled that he was No. 31 when he played here, too. It was awesome."
Senior defensive tackle Keon Stowers shared Heeney's appreciation for the support shown by the dozens of former Jayhawks from several different eras, including several of Bowen's former teammates.
"It was beautiful," Stowers said. "Just to see the support and see all the guys who out the work in before us, the blood, sweat and tears before us. It made us want to play harder. It made us want to play for them and for coach. Coach is one of them, he's one of us. He's been in these meeting rooms. He's been on the field. He's put the helmet on. It felt good, seeing those guys out there."
More love for Bowen
While many of those former players showed up to support Bowen, the appreciation for KU's interim head coach did not end with the pregame ceremony, nor was it limited to former players.
Shortly after leading the Jayhawks to a near-upset of the Cowboys, Bowen went to dinner with his family at Legends, a new restaurant in West Lawrence, and, upon walking in, was greeted by a loud ovation from the Legends patrons.
The gesture was merely the latest in an outpouring of support for the Lawrence native and former Jayhawk.
"It is awesome," Heeney said. "He is definitely a players' coach and we all love him. We all try and play in order to win for him."
Pierson more involved
Senior Tony Pierson's seven first-quarter attempts — six rushes and one reception for 20 yards — marked as many touches as he had received in the past two games combined.
Bowen said throughout the week leading up to Saturday's game that the Kansas offense had to get Pierson more involved and the speed back from East St. Louis, Ill., finished Saturday with 12 touches for 54 yards, 10 of those coming from the backfield.
"Being a running back is just like home to me so it just all comes natural," Pierson said. "I'm getting the ball and of course I'm gonna like that."
Added junior quarterback Michael Cummings of Pierson's impact: "Getting Tony involved is always a good thing. He might not always break one for 60 or 70, but getting him involved and having the defense respect what he can do on the perimeter, that's big."
Gibson starts
Cummings was not the only new starter to play for the Jayhawks on Saturday. Red-shirt freshman Joe Gibson, 6-foot-3, 295 pounds from Rockhurst High in Kansas City, Missouri, opened the game as the Jayhawks' starting center in place of junior Keyon Haughton.
McDonald sits
Starting cornerback Dexter McDonald missed most of Saturday's loss because of injury. McDonald dressed and played the first snap of the game but could not return to action after that and spent the rest of the afternoon in uniform on the sideline but without his helmet.
Bowen said after the game that McDonald was day-to-day.
"He was obviously close," Bowen said. "He started the game."
This and that...
The Jayhawks lost Saturday's opening coin toss and started the game on defense. Oklahoma State elected to receive the first-half kickoff.... KU's 7-3 lead at the 5:10 mark of the first quarter marked its first lead in Big 12 play since topping West Virginia, 31-19, last November.... Senior tight end Jimmay Mundine's 88 receiving yards marked a new career-high.... Senior safety Cassius Sendish recorded the first interception of his career in the third quarter.... Temperature at kickoff was 61 degrees, under sunny skies with light winds out of the southeast.