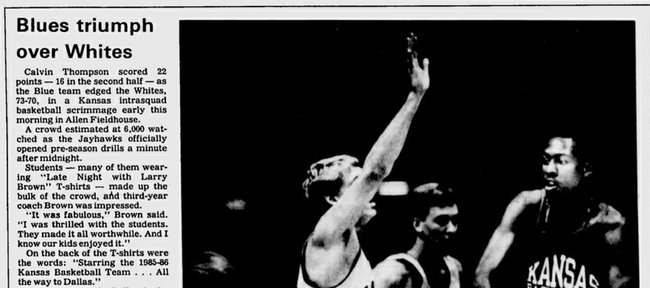 More 'Late Night' coverage
Podcast episode
Tom Keegan & Matt Tait kick around a few things they're looking forward to about tonight's Late Night, KU basketball's official tip-off for the 2014-15 season.
Late Night turns 30 tonight.
"I was there for the first one if I'm not mistaken," said 12th-year Kansas University basketball coach Bill Self, who would be the perfect choice to blow out the candles on Late Night's birthday cake if one is brought to the 30th-annual Late Night in the Phog, set for 6:30 p.m. today, in Allen Fieldhouse.
"It's when 'Jams shorts' were popular. I remember the whole coaching staff wore Jams, those Hawaiian looking shorts. We were sporting those that night in front of about 7,000 people," Self added of coaches and staff members horsing around at the 1985 Late Night With Larry Brown.
"It's obviously grown since then," added Self, a grad assistant on Brown's '85-86 staff. "It's a celebration to start the season. Not everybody does it, but at KU it does work and works well. It's become kind of a ritual with us. People take pride in it. It's certainly one of the most fun nights of the year for us."
The format has changed a bit — until 2005, the hoops scrimmage actually started at midnight in accordance with NCAA rules — but not a lot in 30 years.
There have always been player skits and dances to go with somewhat sloppy scrimmaging at the event that has had the names "Late Night With Larry Brown," "Later With Roy Williams," "Late Night With Roy Williams" and "Late Night in the Phog."
"We had no idea it'd become this (big)," said Brown, now third-year coach at SMU where his players do not hold Late Night, instead sign autographs and mingle with fans at "Midway Madness" at the Texas State fair, this year Oct. 13.
"We took the job and had a couple tough years prior to us coming to KU. Mark Freidinger (KU assistant) and some guys wanted to bring some enthusiasm to the program. We just did it. It's grown. I don't think any compare to this."
Freidinger, a former Wake Forest assistant and current Demon Deacon radio color announcer, had told Brown about Late Night at Wake, in which about 3,000 fans partied in front of Deacon players who "warmed up, dunked and played 20 minutes. The students went crazy. I mentioned it to Larry. I said, 'As crazy as KU fans are for basketball, we may sell it out.' The fact we got 6,000 fans convinced him it was a good idea. The first one we rolled out some basketballs, dunked and scrimmaged."
Self remembers a fun loving group of players and coaches.
"We had a guy named Jerry Johnson on that team," Self said of the 6-foot-7 freshman from Omaha, Neb. "The seniors, who were led by Calvin (Thompson), told Jerry Johnson they wanted him to lead us out on the court for Late Night. Everybody was all excited, jumping around. When it was time to go out there, he runs out full speed and nobody else is with him. He was the only guy on the court. It was a little joke on the freshman."
Though not even half the seats in Allen were full, Brown couldn't have been more pleased back in '85.
"It was fabulous. I was thrilled with the students," Brown said. "The students made it all worthwhile, and I know our kids enjoyed it."
Of course, that 85-86 team advanced to the Final Four in Dallas where KU lost to Duke in the national semifinals.
Late Night has taken place every year since and today hits 30.
"It's something our players look forward to each and every year," Self said.
Former KU coach Williams feels the same way. His Tar Heels last week held the 12th-annual Late Night With Roy, Chapel Hill style.
More like this story on KUsports.com