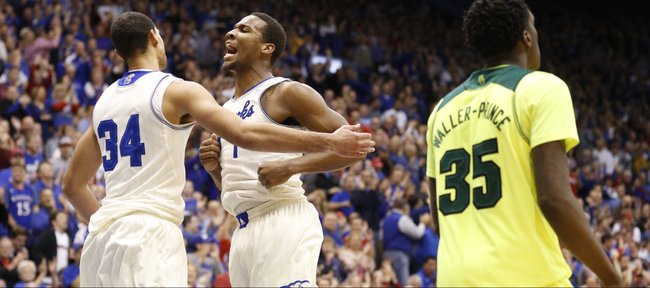 If the Big 12 preseason men's basketball poll is any indication, Kansas University will have some serious competition in its search for an 11th consecutive conference championship.
The Jayhawks were selected as the league favorite by the coaches, the Big 12 announced Thursday morning. But Texas was right behind them. KU received six first-place votes and 78 points overall, while the Longhorns earned three first-place votes and 74 points.
Oklahoma came in third, receiving one vote for first place and 67 points.
KU was selected as the preseason favorite for the 13th time in the 19-year history of the Big 12.
Coaches were not allowed to vote for their own teams in the poll and KU received six first-place votes. Texas (3) and Oklahoma (1) garnered the other first-place votes and were picked to finish second and third, respectively. Kansas State and Iowa State came in fourth and fifth in the predictions. Baylor and West Virginia tied for sixth, while Oklahoma State, TCU and Texas Tech rounded out the poll.
Kansas has won, or tied for, 13 of the 18 Big 12 regular-season titles, including the last 10 consecutive, a streak which ranks tied for third all-time in NCAA Division I history. Overall, KU has won an NCAA-best 57 conference regular-season championships. Last year KU went 25-10 overall and won the league race by two games with 14-4 record.
KU will be led by junior Perry Ellis and sophomore Wayne Selden Jr., who started on the Jayhawks' squad that appeared in the program's 25th-consecutive NCAA tournament last season, the longest active streak in the nation. KU has 10 lettermen returning, led by Ellis who averaged 13.5 points and 6.7 rebounds a year ago. Selden scored 9.7 points per contest, including 11.3 ppg in Big 12 play. Ellis was named to the All-Big 12 Preseason Team on Oct. 2, while incoming Jayhawk Cliff Alexander shared co-Big 12 Preseason Freshman of the Year honors with Texas' Myles Turner.
Historically, the preseason favorite has gone on to finish first in the regular-season 11 times, which does not include 1996-97 as a coaches' poll was not conducted. Kansas has been the preseason favorite in 10 of its 13 Big 12 regular-season titles, missing 1996-97 (no poll), 2005-06 (third) and 2010-11 (second).
BIG 12 2014-15 MEN'S BASKETBALL COACHES POLL
Team (1st-place votes) — Points
No. 1. Kansas (6) — 78
No. 2. Texas (3) — 74
No. 3. Oklahoma (1) — 67
No. 4. Kansas State — 53
No. 5. Iowa State — 51
tied- No. 6. Baylor — 36
tied- No. 6. West Virginia — 36
No. 8. Oklahoma State — 27
No. 9. TCU — 15
No. 10. Texas Tech — 13
— Coaches can't vote for their own team
More like this story on KUsports.com