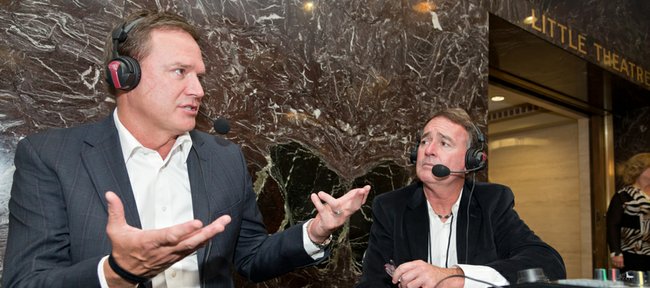 Kansas City, Mo. — As one might expect, Kansas University's starting lineup is up for grabs a mere four practices into the 2014-15 basketball season.
"The guys have tried real hard. I'm really pleased with their competitive juices and spirit moreso than recent memory. They're getting after it right now," KU coach Bill Self said at Tuesday's Coaches Vs. Cancer Reception in Municipal Auditorium. "Right now, I don't know other than Perry (Ellis, forward) and you'd think Wayne (Selden, wing) although I wouldn't say Wayne's been at his best so far. We could have four or five positions (open) right now, for sure four. If Wayne plays like he's capable of playing it'd be hard for anybody to beat him out. Really to be quite candid, it's a coin flip."
As far as the point guard slot, Self on Tuesday continued to speak glowingly of Devonté Graham, a 6-foot-2 freshman floor general from Brewster Academy in Wolfeboro, New Hampshire, who reminds Self of former KU standout Aaron Miles.
"Devonté has been terrific. He's battling for starting minutes, not just playing. He's battling to start," Self said. "I think he's more ready to play right now than any freshman point guard we've signed in a while, Tyshawn maybe," Self added of Tyshawn Taylor, who started as a frosh in 2008-09.
"Tyshawn was kind of forced into action because there was nobody else there challenging. This is a little bit different. Devonté's a good player, a good leader. He has intangibles. He's an athlete. He's exciting for me because of all the guys we recruited, he'd be the least publicized one but he probably has the best feel for what's going on right now than anybody."
Late Night to include Royals: Fans who follow the Royals will be happy to learn they won't be forgotten at Friday's Late Night in the Phog. Late Night begins at 6:30 p.m. The Royals and Orioles will meet in game one of the ALCS at 7:07 p.m.
"We know they (KU officials) are working on being able to show the Royals game, at least parts of it — highlights while the festivities (of Late Night) are going on," Self said. "We can make it kind of a pep rally for basketball and baseball so to speak. It'll be one of the better ones (Late Nights) we've had from what I understand what everyone is trying to do. I know our players are excited."
Self is counting on KU fans jamming the fieldhouse despite fall break and the Royals game. It's a huge recruiting weekend with five players — Jaylen Brown, Stephen Zimmerman, Carlton Bragg, Brandon Ingram and Tyler Dorsey — making official recruiting visits and a dozen or more players making unofficial visits.
New MU coach attends: Self spoke at the Coaches vs. Cancer event with Missouri's Kim Anderson, Kansas State's Bruce Weber, Wichita State's Gregg Marshall and UMKC's Kareem Richardson.
Self is a buddy of first-year MU coach Anderson.
"I've known him awhile, going back to my playing days he was assistant at Missouri," Self said. "People may not realize what a great player he was at Mizzou in the Big Eight. He will do a great job. He's a terrific hire in my opinion."
KU has no plans to schedule the Tigers.
"Who knows what will happen in the future with that situation. If we don't play Missouri for a while, then it's not going to be because of Kim. It'll be because it's best for our program to do so. We'll wait and see what happens," Self said.
"The reason we haven't played didn't have anything to do with coaches or players. I liked Quin (Snyder). I liked Mike (Anderson). I like Frank (Haith) and I like Kim."
Memories: Self revealed he attended Game Seven of the 1985 World Series between KC and St. Louis.
"R.C. (Buford, KU assistant) and I bought a keg of beer and put it in the back (for party in Kauffman Stadium parking lot). We got there in the bottom of the first. A guy said, 'face value (for tickets).' We bought two tickets, parked right in front of the building, went in and sat about 10 rows up right off the right-field line. I got kind of spoiled then," Self said of being able to watch such a big game in prime seats instead of just partying in the parking lot.
Wiggins scores 18: Former KU wing Andrew Wiggins scored 18 points off 4-of-11 shooting and grabbed four rebounds while playing 32 minutes in Minnesota's 103-90 loss to Indiana on Tuesday in Indianapolis. Wiggins was 2-of-2 from three-point land in his NBA preseason debut.
More like this story on KUsports.com