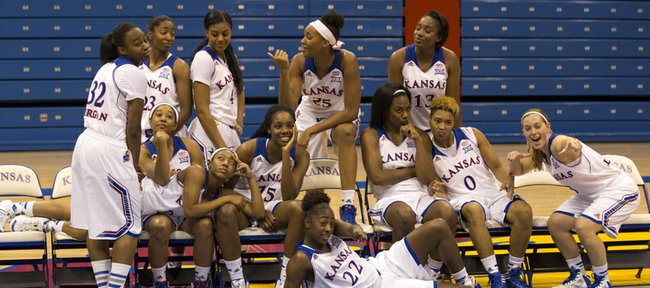 Photo Gallery
Kansas Womens Basketball 2014 Media Day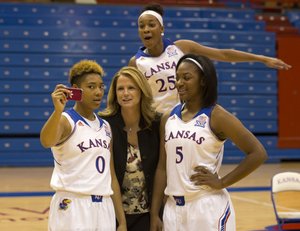 Photos from the 2014 womens basketball media day Tuesday afternoon at Allen Fieldhouse. The Jayhawks open their season on Nov. 2, 2014 with a home exhibition game against Fort Hays State. The scheduled tip off time is 2 p.m.
Kansas women's basketball coach Bonnie Henrickson could not be much more eager about her team's first day of practice today: not only to officially put last season behind her, but to see how her senior- and freshman-laden squad comes together.
"With the returners, (I'm) impressed with their willingness to step up and lead as a senior class," Henrickson said at the Kansas women's basketball media day on Tuesday. "If you look at their careers prior to a disappointing year last year, (they reached) two Sweet 16's and certainly a group that wants to do everything they can do on the court and off the court to get back to that NCAA tournament and that experience and that success. Off the court, I think they've done a great job of being great leaders as captains."
Seniors Chelsea Gardner, Natalie Knight, Asia Boyd and Bunny Williams have all been named as co-captains. Gardner has garnered Preseason All-Big 12 honors after being named to the All-Big 12 first team as a junior.
"Chelsea is always a big part of our offense, and the ball has got to go inside in order for everyone else to get shots," Knight said. "We've always hyped about getting the ball into the post, and I think that we'll be pretty well off if we can get Chelsea some more touches."
Gardner led the Jayhawks in points with 17.1 per game and in rebounds, averaging 8.4 per contest. While Gardner hopes to live up to her preseason accolades again, she has a big team goal in mind as well.
"My personal goal is to win the Big 12 this year," Gardner said.
One of the keys toward a turnaround season for the Jayhawks figures to be in the hands of three freshman point guards.
Lauren Aldridge, Chayla Cheadle and Terriell Bradley will all be vying for the starting point guard spot. While Knight is unsure of how playing time will be split up among her new backcourt teammates, she is intrigued with their willingness to learn what it takes to play at the college level.
"They're great to be around and they work really hard every day," Knight said. "They listen to what you have to say and they're willing to put out the effort, so I'm really excited to see what they're going to do this year."
The continuity of the Jayhawks' squad will be tested early and often before Big 12 play begins against Texas on Jan. 3. Kansas' nonconference schedule features three top-20 teams in the Associated Press Top 25 preseason poll in No. 6 Notre Dame, No. 9 California and No. 18 Purdue.
"I think that it's really, really awesome that our nonconference schedule is so strong because I think that's going to give us time to really just become more cohesive as a unit," Aldridge said. "We'll be able to figure things out really fast, and we've got to perform at our best every single time we come out with such a tough nonconference schedule. That will be a great growing opportunity for all of us younger players because we are a little bit young, especially myself."
The Jayhawks' season will begin with an exhibition matchup against Fort Hays State on Nov. 2 at Allen Fieldhouse.
More like this story on KUsports.com