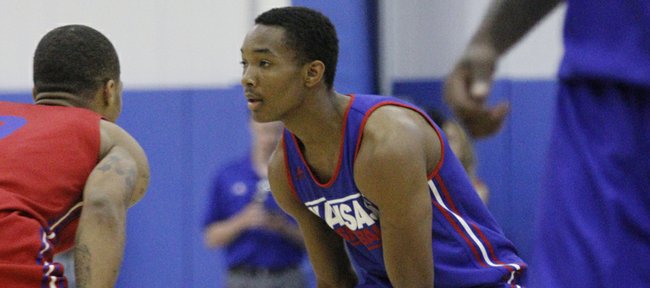 All sorts of modifiers capture different types of confidence, ranging from "quiet" to "obnoxious."
"Classy" is the best word to put in front of confidence as it relates to Kansas University freshman point guard Devonté Graham.
He's smart and he knows it, but he doesn't have to say it because he shows it with everything he says.
In an age when so much communication is non-verbal, from games played with remotes to thumbs, not voices, doing the talking on phones, it has become increasingly difficult to find people in any walk of life comfortable locking eyes and speaking with strong voices. Graham does both.
The Marines who worked with the Kansas basketball team named Graham the team's best leader, and coach Bill Self took it a step beyond that.
"He's probably as popular as any student is on campus," Self said. "I mean, everybody knows him. Everybody likes him. He's got potential to be a great leader, and he's really a good basketball player."
Communication is important in basketball, especially for a point guard, the first defender to influence a possession and the first one to make a decision at the other end.
"I've always been a true point guard," Graham said. "The leadership is just natural with me. I just know things, see things, and I talk. I let people know how I feel, where they should be and I just hold everyone accountable."
A 6-foot-2, 175-pound native of Raleigh, North Carolina, Graham spent a year at Brewster Academy in New Hampshire, the same school former Jayhawks Thomas Robinson and Naadir Tharpe attended.
Self has no plans to fasten training wheels to Graham's bicycle.
"I'll be honest with you," Self said of Graham on Media Day, "without seeing him really go up and down a lot, he's going to be a hard guy to keep out of the lineup."
As a senior, Graham led his high school, Broughton, to the North Carolina 4A state championship. He had committed to Appalachian State, but asked for his release and was granted it last April.
"With Naadir gone, I just thought it would be a great place for me to be," Graham said.
He committed to Kansas the day after Tharpe left the program.
"I think the prep school year was definitely a benefit for me," Graham said. "It helped me grow as a player. I became better. I don't think I would have been ready, coming straight out of high school, if I didn't do that prep-school year."
Ready or not, Graham will play in front of 16,300 basketball fanatics cheering for both teams Friday night.
More like this story on KUsports.com