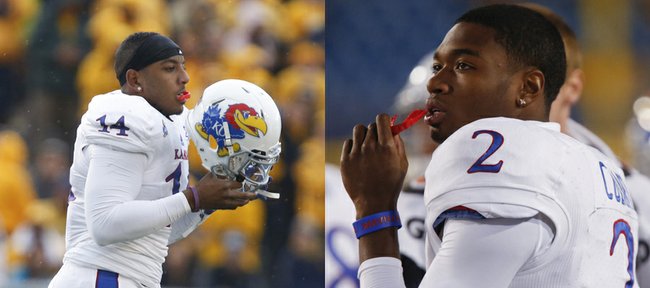 He now may have one full week and an actual game under his belt as the Kansas University football program's interim head coach, but Clint Bowen stiil sees some of the same issues plaguing the Jayhawks.
The most obvious place where those problems show up is on offense, where Kansas (2-3 overall, 0-2 Big 12) has scored just seven points in the past eight quarters and is coming off of a game in which both sophomore quarterback Montell Cozart and junior back-up Michael Cummings played a half during a 33-14 loss at West Virginia.
The Jayhawks return home to play Oklahoma State at 3 p.m. Saturday, but the identity of KU's starting quarterback remains a mystery for now.

Bowen did not name a starter for this week on Monday morning's Big 12 coaches teleconference but did spell out very clearly what the guy who wins the job would have to do.
"I told the guys on our team that, at every position, you're gonna earn the right to play," Bowen said. "And if the guy behind you earns it more than you do then that guy's gonna play. You gotta go out and do your job."
Because of the high visibility of the QB position and all that gets thrown the quarterback's shoulders, people always want to look at that position as the place to start when dissecting an offense. Bowen is aware of that but his goal this week is to get both Cozart and Cummings to worry first and foremost about their jobs.
"I know there are some elements that are out of the QB's hands," Bowen said. "But we talk about handling what they do control better and that's how you earn your time at quarterback. There are certain things that you control as the QB and whichever guy is controlling those better is the guy we're gonna play. It's not a whole lot different than any other position."
At the risk of stating the obvious, Bowen said KU first needs to worry about getting more first downs. That, he said, will lead to better efficiency, better consistency and, ultimately, more points.
"We're toward the bottom of the nation in getting first downs," said Bowen, whose Jayhawks enter the week with 80 first downs in five games, tied for 117th out of 125 FBS teams in that category. "We're going out and getting too many three-and-outs, short drives and not taking time off the clock."
Regardless of which quarterback wins the starting job or even if they both play, Bowen said Cozart and Cummings were similar enough players to enable Kansas to prepare for either scenario.
"They're just slightly different," Bowen said. "Montell probably has a little bit more accuracy and, on the flip side, Michael Cummings probably has just a little bit more ability to pull the trigger and make quick decisions.... But in terms of what we have to do offensively, it remains the same with both of them in the game."
KU plays host to Oklahoma State at 3 p.m. Saturday at Memorial Stadium.
More like this story on KUsports.com