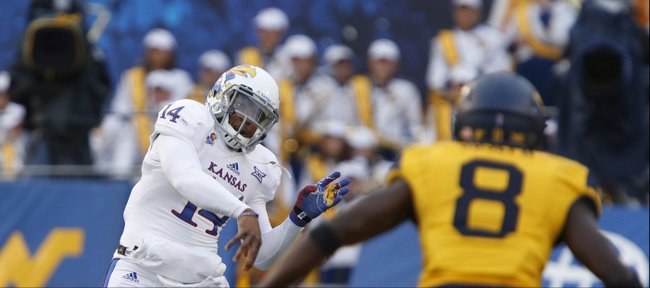 In 2012, during a 56-16 loss at Kansas State, Kansas University quarterback Michael Cummings entered the game in the fourth quarter to replace an ineffective Dayne Crist and later talked about his first action as a Kansas quarterback.
"My job is to be ready when they call on me," Cummings said that day in October 2012. "And I was ready. That's all I can do."
Fast-forward two years, and Cummings found himself in a familiar spot, asked to enter Saturday's 33-14 loss at West Virginia to replace struggling starter Montell Cozart. His words following his latest stint in relief sounded eerily similar to those he uttered two seasons ago, and the junior from Killeen, Texas, again prepares to move forward as a potential short-term answer to a long-term problem.
"I take pride in being prepared," Cummings said after starting the second half and finishing 8-of-17 passing for 65 yards. "A wise woman told me, 'If you're not always preparing, then you're preparing to fail.' So I try to attack every week as if I was the starter."
Cummings elected not to reveal the identity of the woman from which the words of wisdom originated.
"Nah. Neither one of those," he said when asked if it was his mother or a girlfriend. "I'll just say a wise woman."
It's been a wild ride for Cummings as a Kansas quarterback. Recruited by former KU coach Turner Gill in 2011, the 5-foot-10, 210-pound QB with the big arm but few other notable attributes continually has been passed over on the depth chart while at Kansas. During his four seasons in the program, two KU coaches have looked for better talent to pile up in front of him.
First came Gill's infatuation with Colorado prospect Brock Berglund, who never played a down at Kansas and spent his short time as a Jayhawk under a cloud of negativity. Then came Charlie Weis' move to bring in Crist and Jake Heaps, two former five-star prospects who wound up benched before their KU careers were finished. And, finally, Cozart, a local guy who opened the season with so much promise but has struggled mightily in the weeks since.
All got their chance ahead of Cummings, and, despite some decent days and a lot of praise, all came up short and left the coaching staff looking to Cummings.
If ever there were a guy who could stand tall with a smug smile that said, "I'm still here," it's Cummings. But that's not the way he's wired and not how he chooses to operate. Instead, KU's quarterback security blanket has continued to work, continued to grow and, once again, put himself on the verge of being the guy asked to lead this team.
"It just feels good being out there playing," Cummings said.
Interim coach Clint Bowen, who needed just a half to make the move to Cummings, said after Saturday's loss that the change was not necessarily permanent. Bowen said the staff and team would reevaluate things in the coming days before making a decision. Cummings and Cozart seemed OK with that news.
Cummings admitted that entering the game as a relief pitcher has its advantages.
"It's definitely different," he said. "It's easier to see it from the sideline because you can see things happen and develop, and you don't have to worry about 300-pound linemen coming at you."
But this isn't a popularity contest. Nor is it viewed as a me-against-them sort of thing by Cummings or any other Jayhawks who play the position.
"The type of relationship we have in our quarterback room, if we see something out there that whoever's out there can take advantage of, we'll let 'em know," Cummings said. "We don't try to pull each other down or anything like that.... We definitely gotta have a balanced attack. That's the key to any offense."
The problems for the struggling Kansas offense — seven points points in the past eight quarters — go far beyond who's taking the snaps. But after what Cummings showed in the second half this weekend, there may be a belief developing that better days are ahead for KU's quarterback play.
"I feel like he did really well," senior receiver Nick Harwell said of Cummings. "And it just showed us that we've got two quarterbacks that can play, two quarterbacks that can handle pressure. We just look forward to getting better individually and as a team."
Welcome home
About five hours after walking off the field in Morgantown, West Virginia, the Jayhawks returned home to the Anderson Family Football Complex to find an unexpected sight.
Someone made the trek to the football facility while the team was headed home and decorated cars, signs, doors and windows with pro-KU crimson-and-blue balloons and banners. It was the first time in a while anyone could remember such a gesture taking place, and several players and coaches showed their appreciation with messages of thanks on Twitter and other social media sites.
OSU favored by 21
According to the oddsmakers in Las Vegas, Oklahoma State (4-1 overall, 2-0 Big 12) opened this week as a 21-point favorite over Kansas (2-3, 0-2).
The Cowboys and Jayhawks will kickoff at 3 p.m. Saturday and the game will be shown on FOX Sports 1. It will mark the 65th meeting all-time between the two teams and OSU leads the series, 32-29-3 overall and 18-15-1 in games played in Lawrence.