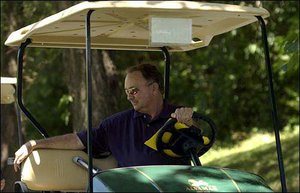 Ross Randall's driving skill is not limited to the tee box. The man who coached the men's golf program at Kansas University for 27 years also proved early in his career he could drive under difficult circumstances without crashing.
Randall had his hands on the wheel, steering the team van back from a tournament in Iowa, when one of his players joined the conversation: "Where are they playing The Masters this week?"
Um, Augusta National, where it has been played every year, starting in 1934.
"I almost drove the van off the interstate," Randall said. "I got onto the warning track. The book, if it ever comes, that's the title: 'Coach, where are they playing the Masters this week?'"
And then there was the player who had a rather unusual excuse for poor performance in a practice round in Orlando. He missed a fourth consecutive four-footer, raked the ball back with his putter and groused, "Damn sun glaring off this Bermuda grass. I can't play in the sun."
"Last trip he made," said Randall, who resides in Lawrence with wife Linda.
Stories will fly this weekend with 55 former KU golfers in Lawrence for a Sunday night dinner to celebrate Randall's induction into the Kansas Golf Hall of Fame.
Randall will be the butt of some of the jokes.
"Whenever we were on a road trip, Ross always had to get his Cheese Wiz," remembered Alan Stearns, a former KU golfer. "Dan Rooney got into the store first and covered up where the Cheez Whiz was. We watched Ross walk that store, up and down every aisle, over and over. We're trying not to laugh, until we had to tell him, 'It's behind that box.'"
Stearns said that he and Rooney always suggested that the pre-tournament meetings be held in their hotel room.
"Ross hated the cold," Stearns said. "So we'd blast the air conditioning before the meeting, he'd complain about how cold it was, and he'd cut the meeting short every time."
A late bloomer
For a guy who spent eight years on the PGA Tour, Randall came to the sport late.
Born in New Haven, Connecticut, his father, a minister, and mother moved him and his three older sisters to Alameda, California, when Ross was 5. He had played a lot of baseball by the time a Saturday morning TV show, "All-Star Golf," inspired him to hit a smaller, dimpled ball for the first time at the age of 12.
"It was the first golf on TV," Randall said of the show. "They'd have a match, Byron Nelson vs. Sam Snead, or Arnold Palmer vs. Don January. Very crude. They'd have a little diagram and say, 'Palmer hit it over here, and January hit it over here, but they both were able to make par.'"
Randall took free lessons at the public course and within 11 months shot a 78.
He accepted a scholarship offer from legendary coach Jerry Vroom, who during his career coached San Jose State to 24 consecutive NCAA finals appearances.
As a senior at San Jose State, Randall was honored as one of six first-team All-Americans, including Johnny Miller and Hale Irwin, who between them won four U.S. Open championships and a British Open. Arnold Palmer presented the trophies at the All-American banquet and during that week in New York the All-Americans enjoyed rounds of golf at Winged Foot, as well as the night life, except for Miller, who did not drink.
"He was my roommate, but he didn't see much of me," Randall said. It could be said that Miller roomed with Randall's suitcase, to borrow a line uttered by Jimmie Reese of his roommate Babe Ruth.
Golfing with legends
During his eight years on the PGA Tour, Randall played rounds with the biggest names in golf history. His quick thoughts on what the legends were like on the course:
Jack Nicklaus: "Terrific. I was not a well-known tour player, and Nicklaus' wife (Barbara) was so nice to Linda. Every time she saw Linda, she would come up and ask how she was doing."
Lee Trevino: "Fine if he was playing well. If he wasn't playing well, he was noisy, loud, tell jokes on your back swing. Very difficult to play with."
Arnold Palmer: "Just a nice guy."
Gary Player: "Very good. I flew with him from New Orleans to wherever the next tournament was and asked him all sorts of questions."
Including: What is the longest you've been able to go without thinking about anything but your next shot?
"I think he said nine holes," Randall said. "I tried to have my players do that, and when I asked them on the second tee box if they had thought about anything but their next shot, most of them would say, 'That was gone after my second shot on the first hole.' It's hard to do."
Tom Watson: "Great. Linda and I kind of took him under our wing for his first two weeks on tour."
Ken Venturi: "He went to San Jose State, and two months after he won the U.S. Open, he gave them money for the first Ken Venturi Scholarship in 1964."
Randall was the recipient.
Two of Randall's KU players won PGA Tour events. Matt Gogel, now a golf telecaster, won one, Gary Woodland two and counting.
Randall said Woodland, his most talented player, never was outworked by teammates: "He called me up once in December and asked, 'Can you come over to Alvamar to help me scrape the snow off the green so I can practice putting?'"
More than a coach
Word spread that most KU golfers enjoyed the experience, and golfers seeking to transfer from more rigid environments came knocking on Randall's door.
"I didn't mind walk-ons because they wanted it more," Randall said. "They really wanted to work hard. At least 50 percent of my best players came from another school because they either didn't like where they were or didn't like the way they were treated."
Sean Thayer transferred from Iowa State as a walk-on and earned a scholarship after his red-shirt year.
"Ross was a good coach for someone who is self-motivated," Thayer said. "It's not much fun being in a program where a coach says you need to hit 400 putts from four feet before you go home. Golf's one of those sports where, if you're a mature individual, you know what you need to do to play well. The person that knows what's best is me."
A tense golfer is a bad golfer, and bad golf increases tension, which makes for a slippery slope toward ruin. Stearns remembered KU slumping badly until Randall cut the tension by dropping his players on State Street on an off day in Santa Barbara.
"He left five college kids with plenty of money in their pockets where all the bars are," Stearns said. "He knew we needed to blow off steam, and we bonded. We played great from that day on. That was a great coaching move."
Plenty of golfers throughout Lawrence have Randall to thank for their inside-out swings that result in drawn tee shots, their slices cured on the range at Alvamar. But at the college level, most players have individual swing coaches.
Randall helped players with course management and with their short games.
Stearns received from Randall this tip for playing No. 9 from the back tees at Alvamar public: "If you can't hit it past the (fairway bunker), why are you even hitting a club that can get to the bunker?"
A two-time All-American at KU, professional golfer Chris Thompson is noted for strong wedge play.
"Ross always had a world-class short game, so I was always picking his brain about shots around the greens, bunker shots," Thompson said.
As shown by the strong turnout anticipated Sunday night, the coach's relationship with ex-players has little to do with instruction and everything to do with friendship.
"I hope that he realizes when he looks back on his career how many lives he affected," Stearns said. "He gave me the opportunity to play at the University of Kansas, get a great education and develop unbelievable friendships."