Photo Gallery
KU men's basketball media day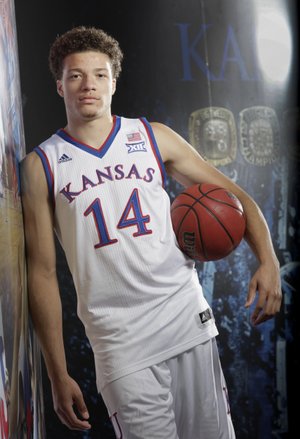 Photos from the 2014 KU men's basketball team media day, Oct. 2, 2014.
A 55-percent shooter as a sophomore, Perry Ellis is expected to unleash his share of jump shots from the perimeter during his junior season at Kansas University.
But the 6-foot-8 Wichita native also figures to set up shop in the lane to convert off a move he and his teammates affectionately refer to as "The Blender."
'"The Blender' is, I get the ball in the post, and I'm just doing a lot of pivots, getting 'em off balance. They don't know what I'm about to do, and I throw a jump hook real quick. I'm moving around a lot in the post, just pivoting around, just faking," Ellis said Thursday at KU basketball Media Day in Allen Fieldhouse.
With a shot as smooth as a drink that comes out of a blender, KU's leading returning scorer (13.5) and rebounder (6.7) on Thursday joined West Virginia's Juwan Staten as the only unanimous picks to the preseason coaches All-Big 12 team. They were joined by Iowa State's Georges Niang, Kansas State's Marcus Foster and Oklahoma's Buddy Hield. Staten was tapped player of the year, ISU's Bryce Dejean-Jones newcomer of the year and KU's Cliff Alexander and Texas' Myles Turner co-freshmen of the year.
Ellis was the only Jayhawk to receive a vote for the all-league team. KU has won the last 10 league titles.
"It does shock me. All these great players we have," Ellis said. "I think that'll be motivation for all of us to work even harder and prove we're a good team."
Noted KU coach Bill Self: "The one thing I was really surprised at is not one of our players got a vote — a vote — other than Perry. I mean, we didn't even have an honorable-mention guy other than Perry, who made first-team. So that may be something that we tell our guys. Because we have got plenty of good enough players that could at least receive some consideration, I think."
Self on KU's possible defensive improvement: "I hope so, because we stunk last year. When I say we stunk, we were probably still the best or second-best defensive team in our league, but that's not who we've been for years. We've been better than that."
Self on possible red shirts: "I don't know who would be a candidate this year. Landen (Lucas) is not a candidate, obviously. Hunter (Mickelson) is not a candidate, obviously. Jamari (Traylor) is not a candidate, obviously, because they have already sat out years. I don't know who else would be a candidate right now. That's one question you guys (media) can remove from your list because I don't think red-shirting will be a possibility with anybody."
Self on third-year sophomore forward Lucas: "Landen may have had the best spring and summer of anybody. He's had a good fall, too. He's going to play. He's fighting for major minutes. He and Cliff (Alexander) are probably right now based on what I've seen going to head-to-head for a lot of major minutes."
Self on freshman Kelly Oubre Jr.: "He's probably the guy that it's harder for me to make a true evaluation on right now because the guy is really good. He's good enough that he's not going to be at Kansas for a long time. He can score the ball, but he's so good around the rim, he's so good defensively getting out in passing lanes, he's such a good offensive rebounder. There are a lot of things they can do well that are not your typical two- or three-guard type things. We have to find a way to post him and do some stuff like that that's a little bit different than what we've been doing."
Self on possibly playing small ball: "I can see a scenario where Wayne (Selden, Jr.) plays point with two big wings, and I can see a scenario where Frank (Mason III) and Devonté (Graham) or Frank and Conner (Frankamp), whoever it is, is in the game at the same times. I don't see many scenarios where all three will be in the game together, but I think we can definitely play small. Frank is tough enough. He allows us to play small because I think he can guard a bigger guard.
"I can see us playing Wayne at the four, Kelly Oubre at the four, Brannen Greene at the four, to make us even though standing height will be about the same, but a much more perimeter-oriented team.
Self on Ukrainian freshman Sviatoslav Mykhailiuk: "He doesn't speak the language as well as he understands it. You know, Joel (Embiid, Cameroon) understood it perfectly, but he always acted like he didn't. He was a master of that. Svi isn't as bright as Joel in that regard, as far as being a con. Joel was great at it. You know, when things are going good, Joel understood every word. When things were going bad, 'Oh, coach, I don't understand at all. (Speaking with heavy accent).'"
"I think Svi gets it, and he understands. But he's a really talented guy. You'll see how impressive he is athletically, with his skill set and all those things. The only knock on him right now is he's young. He should be a high school junior or senior, as opposed to a college freshman. But he's going to be really good.
"We talk about the things he may be lacking because of his age. Well, he's the only one that's been out there playing against 28- and 30-year-olds consistently (at World Cup). So it may not be as much of a factor as we might think."
Mykhailiuk is loving Lawrence. "They say college is the best time of your life. I can see that," he said with a smile.
With the Program: Freshman Graham was named best leader/teammate by the Marines who ran the recent "Program" at KU.
"There were three guys it came down to. It was Kelly and Wayne and Devonté, and those guys picked Devonté, which I think was pretty good for a freshman. You know, Kelly Oubre Jr., is going to be a good leader, too. Those three are probably our most three natural leaders, I would think," Self said.
Oubre on KU: "Pressure, no. Comfort, yes. I see all the guys around the locker room, the tradition and all the guys that came before me. They've paved the way for me to be here right now to be successful. I thank those guys and I'm here to carry the torch, like they left for us, to be great this year. I can't wait to start."
More like this story on KUsports.com