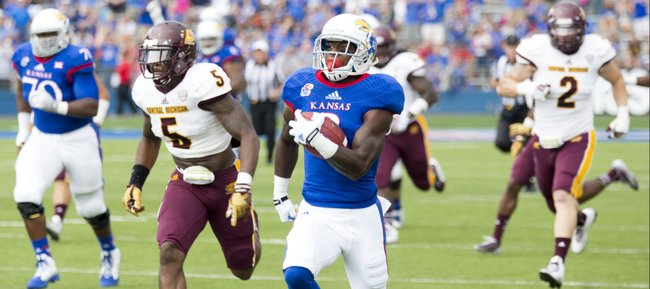 Adrian Peterson once rewarded his Minnesota Vikings offensive linemen with snowmobiles. Reggie Bush gave his blockers Segways. O.J. Simpson's linemen gained immortality with the nickname "The Electric Company."
In keeping with that tradition, Kansas University junior De'Andre Mann started nearly every answer to postgame questions by sending thanks to the offensive line after he ran for 121 yards in his first college game, against Southeast Missouri State.
It's a symbiotic relationship running backs and blockers have, but it's really not a chicken-and-egg question. The running backs don't earn more money in the NFL by accident.
"I say it all the time," said KU offensive coordinator/O-line coach John Reagan, a center during his playing career at Syracuse. "Running backs can make an offensive line a lot better. Very seldom does an offensive line make running backs better."
Mann averages 5.7 yards per carry and is on pace to rush for 885 yards. Freshman Corey Avery averages 4.7 yards and projects to a 756-yard total.
"They are a lot of the reason the offensive line has gotten better," Reagan said of the dynamic tandem. "For two guys who have never stepped on a Div. I football field to have done what they've done so far this year, I'm very pleased with what they've been able to do."
What Mann (5-foot-9, 198 pounds) and Avery (5-10, 195) lack in bulk, they compensate for with explosiveness.
"They're both very quick, have the ability to stop and go, whatever term people want to use for making people miss, or not allowing people to just run through them very often," Reagan said. "They do a good job."
Avery and Mann bring excitement to KU's rushing attack, but nobody the team has puts a scare into a defense the way senior Tony Pierson does. A receiver, Pierson has rushed the ball seven times, averaging 17.7 yards per carry. He leads the team with 155 receiving yards in four games. Naturally, Reagan is happy with his performance.
"I think the reality is, we'd like to be happier with him not because of him, but because of putting the ball in his hands more," Reagan said. "That's always going to be a big part of us game-planning, and it's always going to be a big part of what we're looking at: Has he touched it? Not just him, but have our play-makers in general touched it?"
West Virginia ranks 11th in the nation with 551.5 yards per game. In order to keep pace, Kansas will need to get the ball to play-makers, who will need to make the most of their chances.
More like this story on KUsports.com