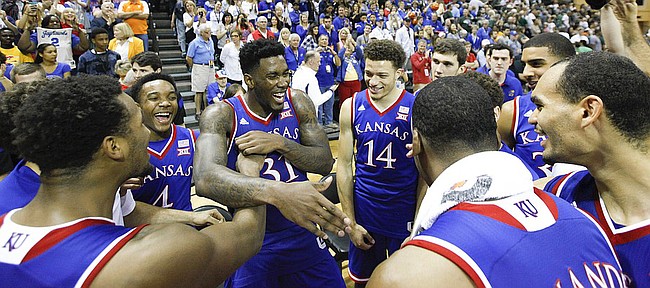 Photo Gallery
Kansas basketball v. Michigan State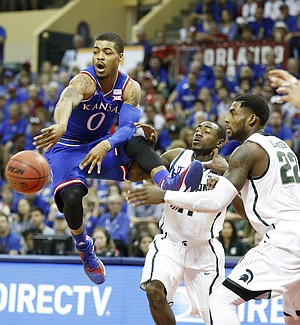 Images from the championship game of the Orlando Classic between the Jayhawks and Spartans
Podcast episode
Bill Self, Perry Ellis and Frank Mason talk after KU defeats Michigan State, 61-56
KANSAS 61, MICHIGAN STATE 56
Kissimmee, Fla — Kansas University backup power forward Jamari Traylor bounced back from two sub-par showings at the Orlando Classic by scoring six points and grabbing a rebound in 15 minutes Sunday in KU's 61-56 win over Michigan State.
He cashed two free throws with 30 seconds left to give KU a two possession lead.
"I've been having rough games and everything, but I just wanted to let the game come to me and do what I do," Traylor said after scoring six points in the championship game. "I'm tough on myself when I make mistakes because I know I'm better than that," added Traylor, who appeared frustrated after getting trapped and having to call time out late in the semifinal win over Tennessee. He also was upset at himself for bobbling an easy pass on the wing for a turnover that game.
"Coach (Bill) Self put a lot of trust in me by putting me on the floor. I'm tough on myself but I always think, 'Next play.' I didn't need anything (positive to happen Sunday) but I wanted to make something happen."
"Mari is emotional. Sometimes I think his emotions are the best thing about him. Sometimes they get in his way. For the most part he's kept a good attitude," Self said.
Lot of KU fans: The crowd of 4,842 in a 5,000-seat arena was an all-time single session record for the Orlando Classic. The previous mark was 4,658 on Nov. 28, 2008 when Gonzaga played Maryland and Oklahoma State played Michigan State.
It appeared the arena was 3/4 KU fans; 1/4 Michigan State.
"Our fans travel wherever we go," Self said. "In the Bahamas last year, we had 3/4 of the building the whole time. Jayhawks do travel."
This, that: Self was tooted for a first-half technical foul before the first media timeout. He was upset a hand-check foul was whistled on Frank Mason III. It's his first 'T' of the season. ... KU became the first Big 12 team to win the Orlando Classic in nine years. ... KU snapped a three-game losing streak to Michigan State, winning its first matchup with the Spartans since Nov. 25, 2003. ... Mason dished as many assists as MSU did as a team (five). KU's team had eight assists. ... Cliff Alexander had a career-high four blocks and tied a career-best mark with eight boards ... KU is 45-26 against ranked teams in the 12-year Self era. ... Self is 5-6 vs. Michigan State, 2-3 as KU coach. ...   The Orlando Classic crown is KU's sixth in-season tournament championship in the Self era, and the first since winning the 2012 CBE Classic in Kansas City, Missouri. ... Tourney MVP Perry Ellis also was MVP of the 2013 Battle4Atlantis and 2012 Big 12 Tournament. ... Wayne Selden, Jr. went 0-for-10 from the field, marking the first time a player has gone 0-for-10 since Kirk Hinrich was 0-10 against Oklahoma (3/10/02).
---
More news and notes from Kansas vs. Michigan State
---