Photo Gallery
Kansas volleyball vs. Oklahoma (Senior Day)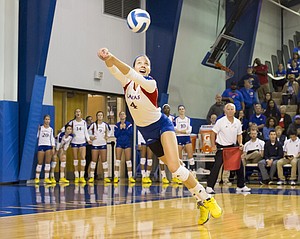 Images from Kansas' volleyball match against Oklahoma, played on Nov. 29, 2014 at the Horejsi Center. Kansas won the back and forth match in five sets, sending seniors Chelsea Albers and Sara McClinton out with a win.
Trailing by three points midway through the fifth set against Oklahoma on Saturday afternoon, Kansas University seniors Chelsea Albers and Sara McClinton told their volleyball teammates in the huddle that they were going to fight back for the win.
Once they stepped back on the court, KU's two seniors backed up their words. McClinton gave the Jayhawks three of the next four points with kills, then with KU later leading by one, Albers smacked back-to-back kills to lift the Jayhawks to a 17-25, 25-18, 25-20, 20-25, 15-11 Senior Day victory at Horejsi Center.
It was the first time the Jayhawks (22-8, 10-6 in Big 12) have won a fifth set in six tries this season.
"I think that we both looked at each other before the game, especially before the fifth set, and were like, 'We're getting this done for each other, for our team,'" Albers said of her late heroics with McClinton. "This is our last time to play in Horejsi. I can't even fathom that. It's not getting through to me. But to have this memory, it's going to be very much treasured."
Albers and McClinton, who have racked up the most wins (88) among any class in program history, shined in the final set but made big plays throughout the entire match, just as they've done throughout their collegiate careers.
"Me and Chelsea just knew that this was going to be our last conference game ever," said McClinton, who had a team-best 18 kills and added two aces. "Of all times to take over, now was the time, and we had to rely on each other to get it done."
After the Sooners (20-10, 10-6) dominated in the first set, the Jayhawks flipped the script. KU began to land attacks and block shots, frustrating Oklahoma's big hitters. The Jayhawks finished with 20.5 blocks, setting a home record in the rally-scoring era, including a career-high 13 from sophomore Tayler Soucie. Freshman Kelsie Payne, junior Tiana Dockery and Albers also finished with more than six blocks.
"That changed the match when we became the physical team," KU coach Ray Bechard said. "We started attacking more aggressively, starting blocking a little bit more. ... Everything had to be spot on to have success against a team like Oklahoma."
After opening the conference season with an 0-3 record, the Jayhawks finished by winning six of their last seven, tied for second in the league and set themselves up with plenty of momentum before the postseason. KU will find out its NCAA Tournament fate during the Selection Show at 7:30 tonight.
More like this story on KUsports.com