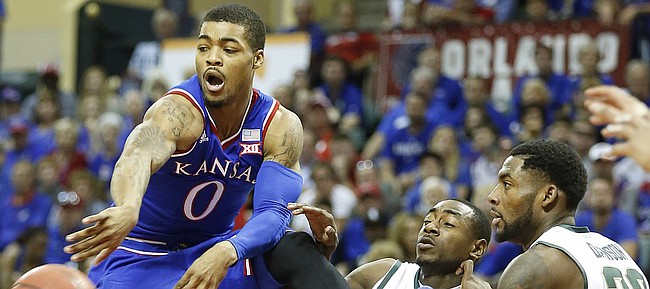 Photo Gallery
Kansas basketball v. Michigan State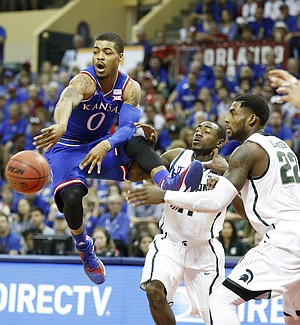 Images from the championship game of the Orlando Classic between the Jayhawks and Spartans
Podcast episode
Bill Self, Perry Ellis and Frank Mason talk after KU defeats Michigan State, 61-56
KANSAS 61, MICHIGAN STATE 56
Kissimmee, Fla. — It was such a physical game with so many big bodies crashing into each other and competing so hard that in an attempt to keep things from getting too physical, a referee was quick to whistle Kansas University basketball coach Bill Self for a technical, even though the coach wasn't even close to being at his crankiest.
It wasn't, however, too physical for the shortest guy on the floor to move among the giants and come away with a game-high 10 rebounds.
Frank Mason, a 5-foot-11 sophomore from Virginia, had a double-double, but not the sort normally associated with a point guard. His 10 points, 10 rebounds and five assists came from his fearless, aggressive style of play and played a huge part in Kansas defeating Michigan State, 61-56, Sunday in HP Fieldhouse in the Orlando Classic title game.
"Frank'll tell you differently, but he's never really been a point guard," Kansas coach Bill Self said. "He's had a scorer's mentality. But I think he's doing a good job of running our team and really defending the other team's point guard."
Mason didn't hesitate when asked if he remembered the last time he had 10 rebounds in a game.
"State semis in high school," Mason said. "I had 17 rebounds."
Triple-double?
"No, I had 37 points and 17 rebounds," Mason said.
Self took the microphone at that point and said, "That's why I said he's learning how to be a point guard. He didn't pass it much."
He's learning quickly. 
Mason's mistakes throughout the three-game tournament ­— a lazy pass from the wing intercepted and taken the other way here, leaving his feet with the ball without knowing what he was going to do with it there — stood out because there weren't very many of them. 
He made the team go fast when it needed to go fast and ate clock when that was the appropriate play.
"I think Frank's played very well," Self said. "I thought he was terrific down here. He can shoot the ball more. He's a better scorer than what he's shown. He only took four shots today. He's playing tough and he's really trying to do what we tell him to do."
Self needed Mason to play big minutes because freshman backup point guard Devonté Graham has been playing with a shoulder injury and was limited to 27 minutes in the three games. Mason played 30, 39 and 36 minutes.
He showed flashes of being a player who would win the point guard job as a freshman, but has played far more consistently this season and does not have an upperclassmen to whom to defer.
"He's a lot more aggressive," teammate Jamari Traylor said, comparing Mason to his freshman season. "He's an alpha dog at the point. He's controlling the game for us and he's also getting on the glass for us. ... He's really, really athletic."
A sub-6-foot, athletic alpha dog playing much more under control as a sophomore than as a freshman. Sounds a little like Sherron Collins. Plays a little like him, as well.
---
More news and notes from Kansas vs. Michigan State
---