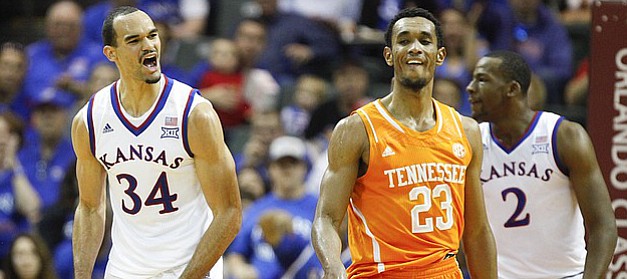 Photo Gallery
Kansas basketball v. Tennessee (Orlando Classic)
Images from Friday's matchup between the Jayhawks and Volunteers at HP Field House
Podcast episode
Self praises play of Ellis, Mason, Alexander after 82-67 victory vs. Tennessee
KANSAS 82, TENNESSEE 67
Kissimmee, Fla — A virtual no-show against Kentucky and his team's most productive player two days into the Orlando Classic that concludes Sunday, Perry Ellis' disparate performances could say as much about his opposition than himself.
Ellis, as is the case with just about every college basketball player, is not equipped to outplay Kentucky's deep pool of giants. 
Ellis scored four points and had two rebounds in 21 minutes against top-ranked Kentucky.
In three games since that night, Ellis has made every opponent look as overmatched trying to guard him as he looked trying to slow down Kentucky.
Ellis dropped 24 points to go with 13 rebounds and three assists in Friday's 82-67 victory against Tennessee at HP Fieldhouse.
Kansas faces Michigan State at noon Central time, which gives Ellis a chance to reveal to what extent he has improved since that night in Atlanta, when he wasn't ready for the Spartans' big, physical post players two years ago.
"Michigan State, we've had a lot of battles with them over the years," Kansas coach Bill Self said. "Nobody's going to play tougher. Nobody's going to get out in transition better. Nobody's going to rebound better than those guys. It'll be a Big Ten type game. I imagine it'll be a pretty physical game and one in which whoever's the winner will be the one that can make plays over defense because they're not going to give you anything cheap, if we play them."
Asked if he has come to like those "Big Ten" type of games, Ellis said, "I don't have a problem  with it. You want to compete as a player, so I mean, it just makes you better, makes you better as a team, makes you better as a person, so I have no problem with it."
Michigan State will try to limit Ellis' scoring opportunities. He's not an easy guy to guard, whether in a man-to-man defense, or as Tennessee was in most of the time, a zone.
"We just tried to get the ball to the middle and let Perry go to work in there," teammate Wayne Selden Jr. said. "He can score at all three levels."
Michigan State, competing with bigger, more explosive bodies than either Tennessee or Rhode Island, represents the best measuring stick so far this season for Ellis.
He entertained the pro-KU crowd Friday with a variety of memorable plays. He couldn't quite get a grasp on a long rebound in traffic and took a step toward the perimeter to try to get it again. But this time, because he had seen Devonté Graham breaking free, Ellis didn't try to catch it. Instead, he directed it with force and accuracy to Graham, who took it in for a dunk. On another play, with the ball near the basket, he executed such a quick spin dribble that he created the illusion of making the defender vanish in thin air and then dropped the ball into the basket.
Ellis leads Kansas in scoring (15.0) and rebounding (6.6). Now it's time to see what sort of Big Ten basketball player he would have made.
---
More news and notes from Kansas vs. Tennessee
---
More like this story on KUsports.com