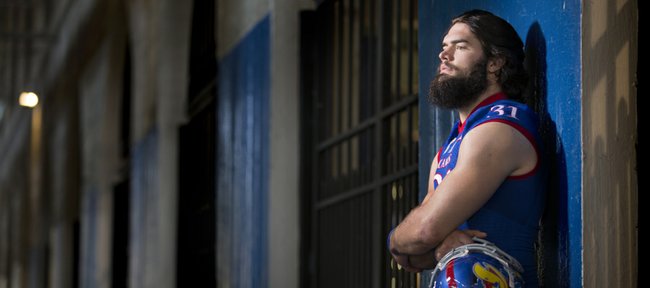 In some alternate reality, Ben Heeney could be the face of another team's defense.
Back in his high school days, before he chose Kansas University, before he became a tackling machine, before someone decided to give him a superhuman alter ego called Captain Heeney, the Hutchinson native was just a teenager mulling an offer to play football for Bill Snyder at Kansas State.
What a different college experience that could've been for the KU senior linebacker, who enters his final game as a Jayhawk — 3 p.m. Saturday, in Manhattan — going up against the program that first showed interest in him. Since Heeney chose the Sunflower State school he grew up cheering for, he has had three head coaches, counting current interim man in charge Clint Bowen, and four years of losing: a 9-38 run from 2011 to now.
In that same time, the Wildcats are 37-12, with trips to three bowls and another coming this winter.
One could empathize with the Big 12's leading tackler (11.0 per game) and understand if he wonders about that unchosen path from time to time, especially in the final week of his college career, as one member of a band of underdogs in a road rivalry game.
What would Mr. KU Football, Ben Heeney, look like in silver and purple?
"It'd be weird," Heeney said. "It'd be really weird. Glad I'm not, that's for sure."
Snyder recruited the lifelong Jayhawk first, and, as crazy as it sounds, the now-6-foot, 230-pound middle linebacker seriously considered turning heel and becoming a Wildcat, even though his father, Joe, played baseball at Kansas.
"I was definitely thinking about it. Me and my parents went over there," Heeney recalled. "They loved coach Snyder. They loved the coaching staff at K-State."
It wasn't just Heeney's KU ties that kept him from committing. Kansas State wanted him to grayshirt — not join the program until the spring of his freshman year, adding extra time to his five-year NCAA clock. It's a tactic Snyder has used successfully at K-State, so it was far from unprecedented or unexpected.
Here's the thing: "I didn't really like the idea," Heeney said, "so I didn't really want to do it."
Fortunately for KU, it wasn't long before former head coach Turner Gill had Heeney on a visit and offered him a scholarship in his office, which overlooks Memorial Stadium.
Heeney accepted then and there.
"This is a place I always wanted to come to," he said this week.
On Saturday, Heeney will wear crimson and blue at Bill Snyder Family Stadium, a place he could've called home. Though he has played there just once before, as a sophomore, he knows what to expect.
"They get pretty crazy over there," Heeney said of the enemy territory. "Their fans are always into the game, and they always sell out. It's a great atmosphere."
One he doesn't regret experiencing from the other side.
More like this story on KUsports.com