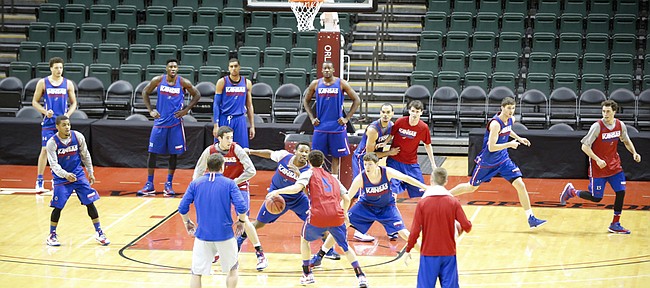 Photo Gallery
Jayhawks practice at HP Fieldhouse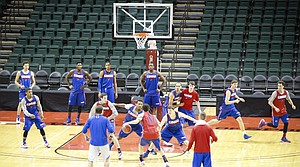 Images from the Jayhawks' Wednesday practice at HP Fieldhouse before Thursday's matchup against Rhode Island.
Kissimmee, Fla. — Bill Self would like to see Kansas University's basketball players hoist a trophy after playing three games this week in the Orlando Classic.
"We need to win a tournament," Self, KU's 12th-year coach, said Wednesday after practice at HP Field House, site of today's 1:30 p.m., first-round game against Rhode Island.
"We won the CBE and won Vegas a couple of times. It would be nice to win a field-of-eight tournament. I don't know if we've won one of those in a while. I know we never won in Maui. We didn't win Atlantis (last year) so it'd be nice to win this one," Self added.
KU won two games and the title at the CBE in 2012 in Kansas City, Missouri. The Jayhawks also went 2-0 to win the Las Vegas Invitational in both 2006 and 2010. But like Self said, the Jayhawks haven't won in two tries in Maui and last year struggled to a 2-1 mark at the Battle 4 Atlantis.
KU beat Wake Forest, 87-78, then fell to Villanova, 63-59, and looked lethargic in a 67-63 win over UTEP in a consolation game at the Bahamas resort.
The last eight-team tournament KU won was the 1999 Great Alaska Shootout.
"We'll probably have a talk about that stuff today," Self said. "We've talked about it some. I'm going to spend some time today talking about what we need to accomplish this trip."
Last year was quite frustrating in the Bahamas because ...
"We didn't get better. We weren't any good in the Bahamas," Self said. "We probably weren't in the best mindset to get better because I think we were pretty full of ourselves after beating Duke (in Champions Classic). We went down there and didn't play with unbelievable energy. We didn't play very smart.
"I don't anticipate us playing unbelievably smart right now because we're not old enough to do that too well. As young as we are, we should play with that youthful exuberance each and every day. That's what I want to see."
The No. 11-ranked (2-1) Jayhawks today meet a (3-0) Rhode Island team that is coming off a 66-62 overtime win over then-No. 25 Nebraska on Nov. 22 in URI's gym. E.C. Matthews, a 6-5 sophomore guard from Detroit, scored 26 points and grabbed 10 rebounds versus the Huskers.
"He's a natural scorer who can get his own shot," Self said of Matthews, who averages 16.3 points a game. "They are very good on the glass and very balanced. They've got tough kids, too. Our guys are going to be tough, but they're not quite tough yet. They've got some seasoned guys that are tough."
The Rams outrebounded Nebraska, 49-36. Hassan Martin, a 6-7 sophomore forward, grabbed 12 rebounds to go with his eight points. Gilvydas Biruta, a 6-8 senior forward, had eight boards and six points. Jared Terrell, a 6-3 freshman guard, scored 12 points.
"That's going to be a key to the game, whether or not we can eliminate their extra possessions," Self said of rebounding.
The Rams are coached by Danny Hurley, who has a 25-33 record in three seasons, making a name for himself by signing some top players in recruiting as his rebuilding program appears to be on schedule.
"Rhode Island has beaten a good team, a very good team," Self said of Nebraska. URI also defeated Pace and UMass Lowell. "And Nebraska can really guard. Danny knows what he's doing. He's got a good staff and they're getting guys."
Hurley is former coach at St. Benedict's Prep in Newark, New Jersey.
"We recruited several players when Danny was coaching there. The one we got was Alex Galindo," Self said. "Danny played a role in making him feel good about us. I've known the Hurley family (including Danny's dad, Hall of Famer Bob Hurley) a long time. Coach Hurley and his wife sat in on home visits when I've done visits with some of his guys. It's a great basketball family."
Lineup not finalized: Self said he hadn't decided on a starting lineup for today's game. Landen Lucas and Perry Ellis opened in the frontcourt, with Sviatoslav Mykhailiuk, Frank Mason III and Wayne Selden Jr., on the perimeter in KU's last game, an 87-60 victory over Rider.
"That was the first lineup we've had that's got us off to a good start, so that was good," Self said. "I thought Landen and Cliff (Alexander) both did a good job. I thought Mari (Traylor) and Perry (Ellis) played well too. That first half, we were all pretty good," he added of leading Rider, 51-22, at the break.
Graham update: KU freshman guard Devonté Graham, who suffered a shoulder sprain early in the Kentucky game and sat out Monday's Rider contest, figures to play some today, Self said.
"He practiced again today, but he's sore," Self said Wednesday. "We could have played him the other day, but there was no reason to. I don't know how much he'll be available to us, but I do anticipate him playing some."
Selden at point: Selden is coming off a game in which he dished nine assists against one turnover but did not score while playing both shooting guard and point guard.
Self was asked if he "likes Selden at the point."
"Like may be a little bit of a stretch," Self said. "I think Wayne can be an adequate backup point, but I still think we're better off if Devonté and Frank are in there."
Tourney times: KU plays approximately 1:30 p.m., today or 30 minutes after the 11 a.m., contest between Tennessee and Santa Clara. KU has been told it will play at 11 a.m., Friday, whether it wins or loses today. The time for Sunday's title game is not yet official. The championship game is listed as either noon or 3 p.m., Central time.
The venue: HP Fieldhouse is a small venue that seats 5,000. It's located in Disney's Wide World of Sports complex.
"I like it. It's good size, too," Self said. "I bet it's close to full."
He added that the Jayhawk players would visit Walt Disney World resort on Friday night win or lose.
KU-Kentucky again?: Kentuckysportsradio.com's Matt Jones writes that Kentucky will likely play KU next season in the Big 12/SEC Challenge in Allen Fieldhouse with the Jayhawks returning the trip to Rupp Arena in Lexington in 2016-17. KU officials on Wednesday said they had no information on such a series. Typically Big 12/SEC Challenge pairings are finalized in January. KU is playing Florida in the Challenge on Dec. 5 in Allen after falling in Gainesville, Florida, last season.
Know the foe: Located in Kingston, Rhode Island, URI has an enrollment of 15,650. ... Rhode Island filled its arena (7,657 fans) for its 66-62 overtime win over Nebraska on Nov. 22. The Providence Journal reports that students arrived two hours early to stand in long lines for the contest. "It was a huge win for us in terms of winning their support back. Our fans can trust this group. I'm extremely happy for our fans. The students came out tonight. It was a night our fans have been waiting for a long time," Hurley told the Journal. ... Hurley on the tournament to Foxsports.com: "Obviously, we've got a lot of work to do. We've got a huge, huge tournament against one of the best teams in the country. We're going to have a game plan that's going to give us a chance to be in the mix with them."
More like this story on KUsports.com