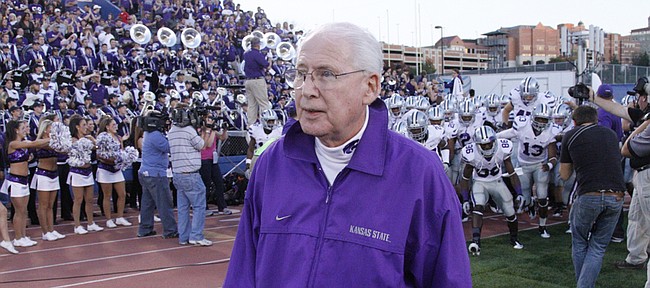 As the Kansas University football program prepares for Saturday's Sunflower Showdown in Manhattan against a team it has defeated just five times in the past 23 seasons, the focus is on K-State quarterback Jake Waters, Wildcats wide receiver Tyler Lockett and KSU defensive end Ryan Mueller.
Stopping or at least slowing down those guys — and others — will be key for KU's chances, and the Jayhawks (3-8 overall, 1-7 Big 12) have spent the better part of Thanksgiving week trying to find anything that will work against the Wildcats (8-2, 6-1).
But there's something much bigger at play here, a force that has kept Kansas football in the shadows of Kansas State for several years and one that the current Jayhawks can't help but marvel at.
"Just their consistency," senior offensive lineman Pat Lewandowski said. "It's always been impressive. New players, new teams, but same output."
Quarterbacks have come and gone. Running backs have rumbled in and out of Manhattan. Hard-hitting linebackers and safeties have stayed for a while and then moved on themselves. But regardless of the personnel, the talent level or the makeup of his roster, coach Bill Snyder, now in his 23rd season at KSU, always has managed to field teams that play the same style of football.
"I think their identity is just a blue-collar, hard-working team," said KU quarterback Michael Cummings, whose first-ever college snap came in Manhattan in 2012. "They don't make mistakes on defense. If you were to draw up their scheme, everybody's where they should be."
While that foundation makes K-State a tough team to contend with, a couple of Jayhawks said their familiarity with what the Wildcats run makes it easier to know what's coming. That said, those same guys say the key is to take nothing for granted and to try to match the Wildcats' effort, intensity, and, most important, execution from start to finish.
"It's one of those things where you can be like, 'OK, this may happen,'" said KU cornerback JaCorey Shepherd of drawing on past experiences against the Wildcats. "So you can just keep it in the back of your head, but you definitely can't try to assume what's coming. That's when you get okie-doked and they go by you and you're explaining yourself."
Better weather
After suffering through wet and windy conditions during last week's lopsided loss at Oklahoma, the outlook for the season finale is much better. Temperatures are expected to be around 60 degrees at kickoff, under sunny skies with light winds.
Cummings and the KU offense struggled to get anything going against OU, finishing with just 103 yards of total offense, 84 of them coming through the air. Those totals came just one week after the Jayhawks had averaged 30-plus points and 400-plus yards in a victory over Iowa State and near-upset of No. 5 TCU. Without saying a word, Cummings made it clear that he was looking forward to Saturday's conditions a lot more.
"It helps that that's the forecast," he said after simply smiling. "It doesn't mean that that's what it's gonna be, but it's nice that it's supposed to be 60 degrees and sunny and won't be pouring rain the whole game."
Beardless Ben Heeney
With one game left in his KU career, senior linebacker Ben Heeney did something drastic to try to bring a little luck the Jayhawks' way…. He shaved his beard.
The bearded Heeney has been a fixture around KU football for the past couple of seasons and the Hutchinson native has been known as much for the look as his dominating play on the field.
Wednesday, at the final media session of the season, though, Heeney walked in with a fresh shave and an evil-genius smile. Heeney said this week was the first time half of his teammates had seen him without the beard and even shared stories of veterans having to do a double-take when they walked past him in the locker room.
"Everyone's been turning their head because they didn't expect it to happen," he said. "I just kind of want to play a game without it and see what happens. I'm not just a beard, I'm also a human being."
Heeney said he had some fun with the shaving session earlier this week and left various forms of mustaches and snapped pictures of those with his cell phone before saying goodbye to the facial hair for good — at least for now.
"It was kind of spur of the moment and I was just like, 'Man, it's not bringing any good luck,' so I just wanted to shave it off and play a game without it and see if it brings any luck. Everyone's always been so all-about it, I was just kind of like, 'All right, this isn't all I am.'"
More like this story on KUsports.com