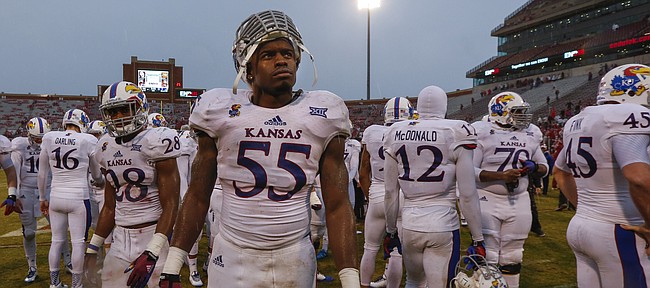 After all of the times they've had to pick themselves up, dust themselves off and fast-forward past the pain of an embarrassing loss during the past four seasons, there's something fitting about the Kansas University seniors having to do that one last time heading into the final game of their KU careers at 3 p.m. Saturday at Kansas State.
The Jayhawks (3-8 overall, 1-7 Big 12) certainly are no strangers to lopsided losses, and, perhaps more than any single trait, their ability to bounce back has defined a class that won't be remembered much for victories but figures to be thought of fondly for the way it fought weekly despite all kinds of obstacles stacked against them.
The numbers are staggering. Since 2011, KU has lost nine games by 40 points or more, six by 30-39 points and five more by 20-29 points.
Considering they're entering K-State week on the heels of one of those forgettable outings — Saturday's 44-7 loss at OU, in which Sooners freshman Samaje Perine's 427 rushing yards set the NCAA single-game record — the Jayhawks likely will take an eerie calm into the season finale.
"I've already forgotten it," senior defensive lineman Keon Stowers said less than an hour after the loss to OU. "That's one of the first things coach (Clint) Bowen said to us: Put this game behind us already. If we keep thinking about it, that's going to carry over to next week. We got blown out by Baylor (60-7 on Nov. 1) and came back the next week to beat Iowa State. We just have to use that same resilience and same fight that we have had this whole season. Just keep going."
That may be easier said than done for most teams, but not this group.
"Get it out of your mind ASAP," junior safety Fish Smithson said. "That's the big thing. You can't dwell on a loss like this. You just gotta get it out of your mind and move on to the next week."
Most weeks and most years that sounds sensible, but surely the loss to the Sooners stung a little more given that it came in the wake of KU's near-upset of No. 5 TCU and dominating victory over Iowa State the week before, right?
"No," KU quarterback Michael Cummings said. "Oklahoma came out, they played well, they beat us. This game is done, though."
And all they can do is focus on what's next — again — which should not be hard considering it's their Sunflower Showdown rival and the final game in the careers of 21 seniors.
KSU favored
KU enters its preparation for K-State as a four-touchdown underdog, which marks the third consecutive week the Jayhawks have been pegged 28-point underdogs by oddsmakers in Las Vegas.
Under Bowen, KU is 5-2 against the point spread.
More like this story on KUsports.com