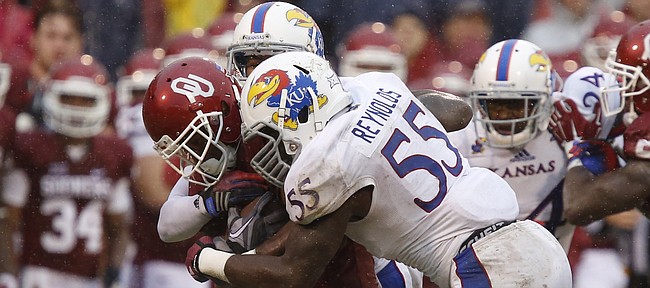 Photo Gallery
Kansas football v. Oklahoma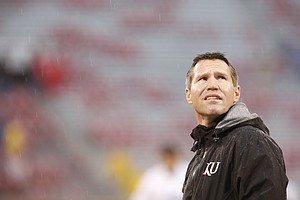 Images from Saturday's game between the Jayhawks and Sooners at Memorial Stadium in Norman.
OKLAHOMA 44, KANSAS 7
KEEGAN RATINGS
ALL-TIME SINGLE-GAME RUSHERS
427 SAMAJE PERINE, Oklahoma vs. Kansas, Nov. 22, 2014
408 MELVIN GORDON, Wisconsin vs. Nebraska, Nov. 15, 2014
406 LADAINIAN TOMLINSON, TCU vs. UTEP, Nov. 20, 1999
396 TONY SANDS, Kansas vs. Missouri, Nov. 23, 1991
386 MARSHALL FAULK, San Diego St. vs. Pacific, Sept. 14, 1991
377 ANTHONY THOMPSON, Indiana vs. Wisconsin, Nov. 11, 1989
357 MIKE PRINGLE, CS Fullerton vs. New Mexico St., Nov. 4, 1989
357 REUBEN MAYES, Washington St. vs. Oregon, Oct. 27, 1984
356 EDDIE LEE IVERY, Georgia Tech vs. Air Force, Nov. 11, 1978
350 ERIC ALLEN, Michigan St. vs. Purdue, Oct. 30, 1971
349 PAUL PALMER, Temple vs. East Carolina, Oct. 11, 1986
347 RICKY BELL, USC vs. Washington St., Oct. 9, 1976
347 RON JOHNSON, Michigan vs. Wisconsin, Nov. 16, 1968
343 TONY JEFFERY, Texas Christian vs. Tulane, Sept. 13, 1986
342 ROOSEVELT LEAKS, Texas vs. Southern Methodist, Nov. 3, 1973
342 CHARLIE DAVIS, Colorado vs. Oklahoma St., Nov. 13, 1971
As if Kansas University's football team hasn't had enough issues winning away from Lawrence, the Jayhawks found it to be an impossible task once again Saturday afternoon at Gaylord Family Memorial Stadium, in Norman, Oklahoma, where true freshman running back Samaje Perine set a new FBS single-game record, with 427 rushing yards on 34 carries.
Perine's record day in OU's 44-7 victory featured five touchdown runs of 27 yards or more, as KU lost its 28th consecutive game away from home, and the freshman rusher broke the week-old record of 408 yards, set by Wisconsin's Melvin Gordon last weekend, against Nebraska.
On a miserably wet afternoon, neither No. 23 OU (8-3 overall, 5-3 Big 12) nor Kansas (3-8, 1-7) could count on throwing the ball effectively. Sooners freshman quarterback Cody Thomas completed just three of his 13 passes for 39 yards. Kansas junior quarterback Michael Cummings only found relative success, hitting on eight of his 22 throws for 84 yards, with an interception.
OU overcame the conditions and lack of air attack by riding its star freshman, Perine, who made a habit of busting long runs and cruising to the end zone, above the soaked turf.
A botched snap on a punt set KU's total yardage back 25 yards, but the Jayhawks only produced 19 rushing yards and 103 yards of offense, compared to OU's 510 yards on the ground and 549 total yards.
KU completes its season, and its eighth game under interim head coach Clint Bowen, next Saturday at Manhattan, where rival Kansas State (8-2, 6-1) awaits the Jayhawks.
HOW THEY SCORED
First Quarter
11:24 — Samaje Perine 49 run. Michael Hunnicutt kick. OU was held to a three-and-out on its first offensive possession but the OU defense responded by holding Kansas to a three-and-out and that gave the Sooners the ball back near mid-field. On the first play — and his first carry — Perine took the handoff around the left side and raced untouched to the end zone. (OU 7, KU 0).
2:46 — Michael Hunnicutt 38 field goal. The Sooners benefitted big time from a Dexter McDonald pass interference penalty on third and long and the 15-yard march off after the flag set up the kick that gave OU a two-score lead. The drive went 46 yards in 11 plays and 4:05. (OU 10, KU 0).
Second Quarter
6:05 — Perine 33 run. Hunnicutt kick. With the OU defense continuing to bottle up the Kansas offense, the Sooners' offense pounded away on the ground to push their lead to 17 midway through the second quarter. Perine, who went over 100 yards for the day and broke Adrian Peterson's freshman single-season TD record, carried seven times on the nine-play drive and racked up 76 of the 82 yards gained. (OU 17, KU 0).
1:41 — Perine 34 run. Hunnicutt kick. The powerful OU running back continued to chew up yards while running through big holes to push OU's lead to 24. The 5-foot-11, 243-pound freshman carried the ball on four of the drive's five plays and gained all 74 yards, putting him over 200 for the half. The drive took five plays and 1:28. (OU 24, KU 0).
Third Quarter
13:56 — Perine 66 run. Hunnicutt kick. After a feeble three-and-out for the KU offense to start the second half, the bruising OU back picked up where he left off on OU's first offensive play of the second half, rumbling 66 yards through the left side for another touchdown. The drive covered one play, 66 yards and 10 seconds. (OU 31, KU 0).
13:34 — Cassius Sendish 67 fumble return. Matthew Wyman kick. After a big-time interception by OU's Ahmad Thomas ended a Kansas drive, KU safety Isaiah Johnson forced Keith Ford to fumble after an 11-yard gain and Sendish scooped up the loose ball and ran untouched to the end zone for KU's first points of the game. (OU 31, KU 7).
9:30 — Hunnicutt 37 field goal. Perine did most of the heavy lifting again on this drive, rushing six times for 51 yards, but the drive stalled at the 20 and OU coach Bob Stoops sent his kicker onto the field to tack on a few more points for the home team. The drive covered nine plays and 52 yards in 4:04. (OU 34, KU 7).
6:04 — Perine 27 run. Hunnicutt kick. A nice return by the OU special teams gave Perine less to work with, but Perine still found as many yards as he could on the four-play, 35-yard drive that delivered his fifth touchdown of the game and brought his rushing total to 375 yards. The TD run came on a fourth-and-two that Stoops elected to go for instead of kicking the field goal. (OU 41, KU 7).
Fourth Quarter
8:02 — Hunnicutt 36 field goal. The drive that Perine broke the NCAA single-game rushing record was capped by a field goal as Hunnicutt knocked his third three-pointer of the day through the uprights to add to OU's lead. Perine's record-breaking run came on a 51-yard run on second-and-three that set up the field goal. The drive covered 10 plays, 64 yards and 4:57. (OU 44, KU 7).
— Find out what people were saying about the game during our live coverage.
More like this story on KUsports.com