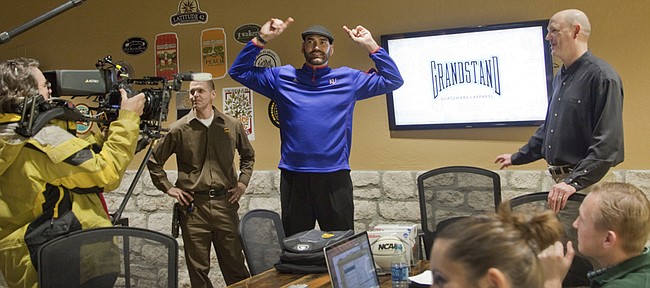 Scot Pollard led a UPS film crew through an Allen Fieldhouse hallway to the current Kansas University basketball locker room.
"Let's go in there. Oops, let's not. It's not pretty in there, but it sure is pretty out here," the former Kansas University forward/retired 11-year NBA veteran said, pointing to a 1997 Sports Illustrated March Madness cover hanging on the wall. It featured the 6-foot-11, 270-pounder tearing down a rebound with his left hand.
The bearded big man, who has acting experience, was the obvious choice to star in UPS' promotional video program in which famous individuals deliver packages to unsuspecting customers. UPS, for example, has had previous "ride-alongs" with Florida coach Billy Donovan, Baylor coach Scott Drew, ESPN's Jay Bilas, CBS' Greg Anthony, former WNBAer Lisa Leslie, and Michigan's Desmond Howard, among others.
Pollard and UPS driver Chris Taylor delivered some "swag" — as Pollard called it — to former KU forward Chris Piper's Grandstand Glassware and Apparel of Lawrence as well as Hasty Awards of Ottawa, a supplier of youth sports awards owned by KU grad Steve Hasty.
"You've got to be the biggest delivery guy ever," Piper said in accepting a KU/UPS backpack, a basketball and other assorted goodies.
Piper sat down for an interview with a UPS film crew and was asked to talk about how excited he was to have Pollard in his office.
"I'll have to make that up then," Piper said, needling Pollard as former players so often do when they meet up with each other.
"Usually you don't get a 7-footer delivering packages to you, especially a guy by the name of Scot Pollard. Yeah I'm a little excited. I've known Scot a long time," Piper added in the promotional spot.
Pollard — who played B.H. Born in the movie "Jayhawkers" and the lead role of Axeman in "Axeman at Cutter's Creek" — also works in broadcasting.
"Mostly because of the ability to be relevant in this market still," Pollard said, asked why he accepted the UPS gig. "I love KU. I get to talk about KU. This is a locally focused commercial (to appear on social media platforms and the UPS website). Desmond Howard did one at Michigan that was pretty cool. Anything helping with the university ... also I'm getting paid," he added, laughing.
Pollard, who lives in Indianapolis, attended KU's 72-40 loss to Kentucky on Tuesday in Indy.
"Fairly easy," Pollard said, asked how the Jayhawks could quickly recover from the blowout defeat. "That (Kentucky) team obviously has the most talent in the country. I can't think of a team that would have more talent than that. Their second five was dominant. They also are 15-16 days ahead because they got to play in the Bahamas (in August). They got to practice a little bit this summer.
"Not only are they very, very talented but they are a little bit ahead progressionwise. I think in another two weeks our team is going to look a lot better. If you hit pause on Kentucky's development maybe we compete a little bit better in two weeks than we did this week. We're not in tip-top form in the preseason, that's why we play games like that. He (coach Bill Self) takes the temperature and gets an idea of what the team is like right now and hopefully you get a lot better as the season progresses. We're going to be better in March than November."
Of the 32-point margin of defeat, Pollard said: "In the NBA you get beat like that you've got a game the next night, but in college they are going to have some practices this week. They've got a game Monday (7 p.m. vs. Rider, Allen Fieldhouse). He'll get 'em back in practice, they'll be back to playing normal college basketball teams instead of NBA all-star teams and they're going to be just fine."