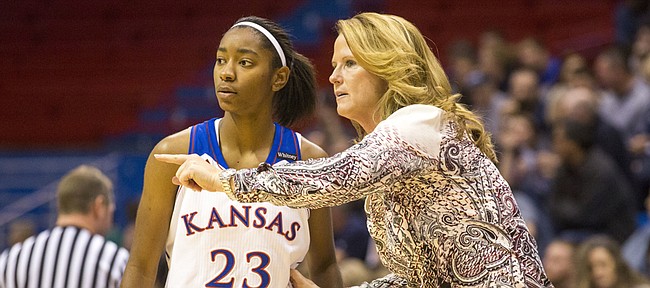 This weekend will be far busier than most for Kansas University's women's basketball team.
The Jayhawks, hosts of the Naismith Hall of Fame Women's Basketball Challenge, have three games in three days at Allen Fieldhouse, beginning with tonight's 6 p.m. matchup with Alabama. Then comes Temple on Saturday and Georgetown Sunday afternoon.
That's a lot of hoops, with minimal recovery time. But coach Bonnie Henrickson has a trick to keep her team from worrying about wearing down.
"We referenced back to when they play in the summer and they play (with) their AAU teams," Henrickson said. "Sometimes they play three in a day. So we try to brainwash them to say, 'Oh, this will be a piece of cake. It's only three in three days. You used to play three in a day.' That lasts for like two, two and a half minutes. The good thing for us is that it's here."
KU freshman guard Lauren Aldridge isn't too far removed from those days of games on top of games.
"She's right that it is like an AAU tournament," Aldridge said, buying Henrickson's line. "We would play three games, four games in one day, so hopefully that will correlate over to college and we'll be able to be mentally and physically prepared, which we will. We have great strength coaches, and all of our coaches do a great job."
By the time the three-day challenge ends, KU will have played five games in eight days.
The Jayhawks (2-0) at least should be able to rely on senior forward Chelsea Gardner (19.0 points, 8.0 rebounds) to carry the load, with fellow seniors Natalie Knight (10.5 points, 5.5 rebounds, 2.5 assists) and Asia Boyd (7.0 points) helping along a group of role players that includes four freshmen — Aldridge, Lorraine Enabulele, Chayla Cheadle and Terriell Bradley — and a first-year junior college transfer, Timeka O'Neal. Sophomores Jada Brown, Caelynn Manning-Allen and Keyla Morgan, as well as senior Bunny Williams, all return from last year.
Cheadle said the new and old Jayhawks have meshed thus far.
"I think with any team," the freshman from Columbia, Missouri, said, "that if your chemistry is good, the outcome is going to be good."
Can those good vibes and a little brainwashing keep their legs feeling fresh through the weekend? That's another question.
Probable starters
KANSAS (2-0)
G — Asia Boyd, 6-1, sr.
G — Natalie Knight, 5-7, sr.
G — Lauren Aldridge, 5-7, fr.
F — Jada Brown, 6-0, so.
F — Chelsea Gardner, 6-3, sr.
ALABAMA (1-2)
G — Hannah Cook, 6-0, fr.
G — Karyla Middlebrook, 5-7, fr.
F — Nikki Hegstetter, 6-2, jr.
F — Ashley Williams, 6-0, so.
F — Briana Hutchen, 6-1, sr.
GEORGETOWN (2-1)
G — DiDi Burton, 5-5, fr.
G — Katie McCormick, 5-9, jr.
G — Dorothy Adomako, 6-1, fr.
F — Dominique Vitalis, 6-2, jr.
F — Faith Woodard, 6-2, so.
TEMPLE (1-1)
G — Feyonda Fitzgerald, 5-7, so.
G — Tanaya Atkinson, 5-9, fr.
G — Tyonna Williams, 5-6, sr.
G — Erica Covile, 6-1, jr.
C — Safiya Martin, 6-4, so.
More like this story on KUsports.com