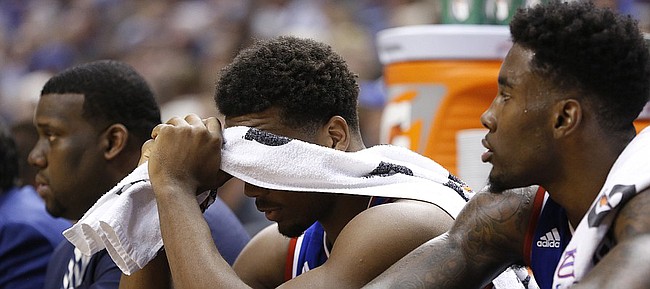 Photo Gallery
Kansas basketball v. Kentucky (Champions Classic)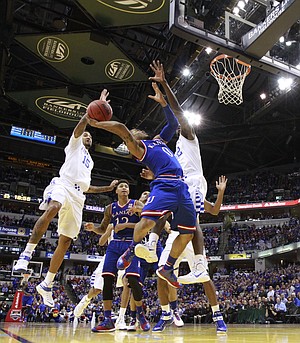 Images from Tuesday night's Champions Classic marquee matchup between the Jayhawks and Wildcats at Bankers Life Fieldhouse in Indianapolis.
KENTUCKY 72, KANSAS 40
KEEGAN RATINGS
Indianapolis — Kansas University's basketball team figured to have some problems with Kentucky's star-studded Wildcats and their nine McDonald's All-Americans on Tuesday night at the Champions Classic.
But a 72-40 thrashing? The worst loss of the Bill Self era and fourth worst in Jayhawk history?
That proved quite a sobering surprise to the (1-1) Jayhawks and their legion of fans who helped sell-out Bankers Life Fieldhouse (19,306).
KU, get this, scored 12 points in the final half off 3-of-23 shooting and for the game hit 19.6 percent from the field, KU's lowest percentage since official stats started being kept at the school in 1988-89. The next lowest mark was 28.2 percent against Temple in 1995.
KU finished with four assists, again KU's lowest total since official stats were compiled. Five dimes vs. Oklahoma State in 2013 was the previous worst mark. The Jayhawks had zero assists the second half, obviously another record.
It all added up to fewest points for KU since the Jayhawks scored 35 in a 41-35 setback at Missouri on Jan. 20, 1982.
"I told him (media member) that was vodka," Self deadpanned in a packed interview room after the game, KU's 12th-year coach pretending he was sipping a stiff drink instead of a bottle of water. "The players ... it's OK to hurt. They are embarrassed. We all are for not putting up more of a fight," Self added. 
"It's too early in the season (to be discouraged). The Chiefs weren't very good early in the season either. Look now. They are playing great. The Patriots stunk. Look at them now, one of the best teams in the league. We've got a lot of work to do, (but) nothing says we can't be a really good team."
On this night however ... wow, did the Jayhawks look like the opposite of a stellar squad.
"I made a couple pretty bold statements when we got beat at TCU a couple years ago. That was a clinic compared to tonight," Self said, comparing the UK disaster to losing to the last-place Big 12 team.
Self had a lot to say after a game in which none of his players scored in double figures. Wayne Selden Jr.'s nine points led the way.
"That's not a total shock. When you hang 40, somebody would really have to get hot to get 10," Self said. "We are just not very good. Obviously I knew we hadn't practiced well and done some things well. I didn't think it'd be like this. This is one game, although a beatdown.
"No matter how bad we shot it the first half (24.2 percent), we proved we could shoot it a helluva lot worse the second. Anybody who said, 'No way they can shoot 24 percent again,' they were right. We shoot 13 (percent).
"My biggest concern," he added, "is who are my best players? I don't know. I don't think anybody knows. We're good if we play a system. Individually we're not good enough to play against guys like that. We have to become a team. We're not close to being a team yet. It's a long season. We've had some teams stink before and responded. Tonight we could have been on the top of our game and not made much difference."
KU, which was sparked by six points from Kelly Oubre Jr. (who made his first start) actually went on an 11-2 run to cut the gap to 37-28 at :24. Kentucky, which had eight blocks the first half and 11 for the game (two off school record for a foe) did score the final point of the half to make it 38-28 at the break.
But UK outscored KU 34-12 the final half, winding up handing the Jayhawks the lopsided defeat. The previous worst loss in the Self era was a 25-pointer to Texas (80-55) on Feb. 25, 2006.
The only worst losses in KU history were to Nebraska by 40 in 1900, Kentucky by 37 in 1974 and Oklahoma State by 33 in 2000.
"We never once resembled a team offensively the entire game," Self said. "I hope they were the primary reason why. You get long athletes who like to guard, they can cover up for mistakes better than anybody I've seen. They were impressive."
KU did hold Kentucky to 43.1 percent shooting.
"We didn't give up one lob, didn't give up hardly anything in transition," Self said. "If you told me before the game if we do those things, I'd said we'd hang around at least."
KU didn't hang around this night. The next chance to get on the court is Monday against Rider. Tip is 7 p.m., in Allen Fieldhouse.
---
More news and notes from Kansas-Kentucky basketball
---
More like this story on KUsports.com