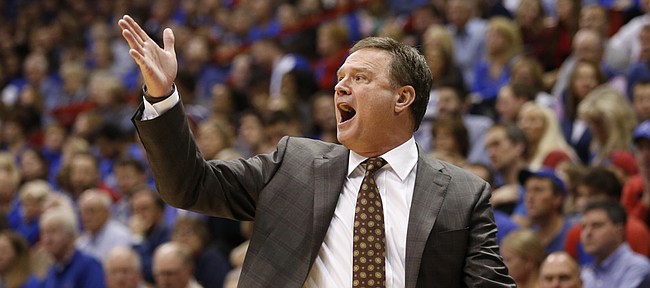 With a 10-point opening-night victory over a veteran UC Santa Barbara basketball team in the books ...
"Now we can talk about the Wildcats of Kentucky," Kansas University coach Bill Self said after the Jayhawks' 69-59 victory on Friday night in Allen Fieldhouse.
The No. 1-ranked Kentucky Wildcats, who meet No. 5 KU approximately 8:50 p.m. Tuesday at Bankers Life Fieldhouse in Indianapolis, pounded Grand Canyon, 85-45, in Friday's opener in Lexington, Kentucky.
UK has another home tune-up tonight versus Buffalo.
"I don't want to say it will be just a toughness game, because it's not, but when you're as big as them (7-foot Willie Cauley-Stein, 6-11 Karl Towns, 6-8 Alex Poythress in starting lineup; 6-9 Marcus Lee, 6-10 Trey Lyles, 7-0 Dakari Johnson off bench) and a lot of times looking at their rebounding stats, their best offense is just getting on the glass, and go run get it," Self said.
"We're going to have to do a much better job of being tougher in rotation rebounding and really paying attention to that, because they're really good. They're long, and they're going to be hard to score against. Cal (John Calipari, UK head coach) is a good defensive coach, and they've got so much length. So we need to be sure we're really good rebounding on the defensive end ourselves."
Self wasn't overly impressed with the Jayhawks' opening win.
"It was an ugly win, but we'll take it. I'm not embarrassed beating Santa Barbara by 10 because I knew they were capable of giving us some problems," Self said.
"We didn't have the killer instinct, didn't put them away, didn't finish the game great. We did beat a good team. I'm pleased with the defense, pretty pleased with our rebounding," he added after winning the board battle 42-31 and holding the Gauchos to 41.1 percent marksmanship (4-for-19 from three).
KU hit 41.5 percent of its shots, 20 percent (2-for-10) from three.
"We didn't throw the ball inside enough. Our ball movement on the perimeter is so bad. We don't get it side to side enough. The ball is sticking. Even with big guys, the ball is sticking," Self said.
Perry Ellis led the frontcourt players with 13 points (off 4-of-7 shooting) and 10 rebounds. Jamari Traylor had two points (1-for-4 shooting) and 10 boards. Cliff Alexander had nine points (3-of-5 shooting) and four boards, Landen Lucas two points and two boards and Hunter Mickelson one block in two minutes.
"Cliff played well — four minutes the first half (one point, two boards), five or six in a row until he was totally gassed. He was great (in the second half, with eight points, two boards in eight minutes). We put him in late, he backed off the guy (Alan Williams, 22 points, 13 boards) who scored four straight.
"It is nice to see two hands over the rim when we go rebound the ball."
The 6-8 Alexander showed a nice touch on a 15-footer the second half.
"No no no, it was a good shot, Cliff," Self said, smiling, asked his reaction to the shot. "Cliff acted like he knew what he was doing when he took them. Cliff played well. He got two quick fouls early, but I thought Cliff did some good things. One thing Cliff can do is that he can go after the ball."
An easy-going guy off the court with a deep voice and a big smile, Alexander laughed when asked by a reporter if he "felt OK" coming off the bench at this stage of his career.
"I mean, whatever works for the team. Whatever works for the team," he said.
Asked when he last was asked to come off the bench, he said, "Never."
Nine Jayhawks played nine or more minutes in the opener. Ten Kentucky players went 14 or more minutes vs. Grand Canyon.
"It's good to get that under our belt," Self said. "I was nervous about this (opener). They (Gauchos) play zone. Our best players aren't playing (as well as they can) yet ... we'll be a much better team (as season progresses)."
Scouts galore: More than 60 NBA execs and scouts are expected to attend the Champions Classic, Zagsblog.com reports. The KU-Kentucky game follows a 6 p.m. contest between Michigan State and Duke.
Duke's Jahlil Okafor is the No. 1 pick in the 2015 NBA Draft, according to draftexpress.com, followed by UK's Towns at No. 3 and KU's Kelly Oubre Jr. and Alexander at 4 and 5. Duke's Justise Winslow is listed No. 8, UK's Cauley-Stein No. 10, Duke's Tyus Jones No. 14, UK's Dakari Johnson No. 19, KU's Wayne Selden Jr. No. 25, UK's Andrew Harrison No. 26 and UK's Aaron Harrison No. 28.