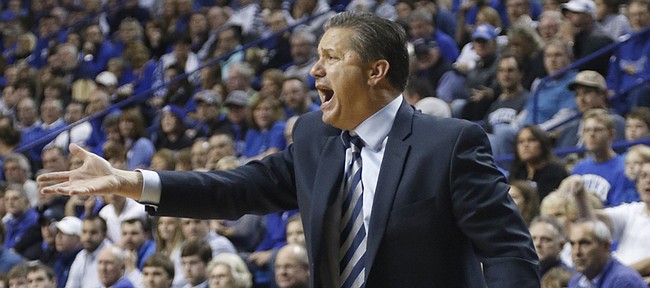 There was much talk of John Calipari's Kentucky's basketball team going undefeated during the 2013-14 season.
As it turned out, UK dropped its third game of the year to Michigan State in the Champions Classic en route to a 29-11 record and NCAA runner-up finish.
The undefeated talk is back again this preseason, into the regular season, with none other than SMU coach Larry Brown saying his former assistant, "coach Cal," should lead his talent-laden team to an unblemished 45-0 mark. Indiana is the last team to win all its games, in 1975-76.
What does Kansas University junior forward Jamari Traylor think of all that undefeated chatter?
"I don't know," Traylor said Sunday, two days before Tuesday's Champions Classic game between UK (2-0) and KU (1-0). Tipoff is approximately 8:50 p.m. at Bankers Life Fieldhouse in Indianapolis.
"We're trying to end that quick this year, so ..." Traylor added, not completing his thought.
KU coach Bill Self, who like Calipari is a former staff member of ex-Jayhawk coach Brown, on Sunday said, "That's coach Brown being coach Brown," when asked about his mentor's comment.
On Friday, after KU's season-opening 69-59 victory over UC Santa Barbara, Self acknowledged the Wildcats probably will be favored in every game and that they'd wind up with a "terrific record, that's for sure."
Crazy thing is, Kentucky, which whipped Grand Canyon, 85-45, in Friday's opener, actually trailed Buffalo, 38-33, at halftime Sunday in Lexington, Kentucky, before rallying to a 71-52 victory.
"I watched the game today. They've got 10 pretty good guys they rotate in and out," KU sophomore Wayne Selden Jr. said of UK's platoon system which has (6-foot-11) Karl Anthony-Towns, (7-foot) Willie Cauley-Stein, (6-8) Alex Poythress, (6-6) Aaron Harrison and (6-6) Andrew Harrison playing as one unit and (6-9) Marcus Lee, (6-6) Devin Booker, (5-9) Tyler Ulis, (6-10) Trey Lyles and (7-foot) Dakari Johnson entering as the other. Things get mixed and matched when there are foul problems.
Asked if he'd ever faced a team with as many good players — only Olathe Northwest grad Cauley-Stein was not a McDonald's All-American — Selden replied, "We've played against teams that don't have that many good guys, but have teams just as good."
Traylor also watched the UK-Buffalo game on TV before Sunday's practice.
"Some of the first half of the game, that's about it," Traylor said. "They go after the glass. They get a lot of second-chance points and opportunities. We have to limit that."
Of course, Self watched Sunday's game with pen and notepad in hand.
"That wouldn't be different. That would be the way I watch all the games," Self said of games involving upcoming foes. "If we're scouting a team, I always take notes on what is going on."
What'd he notice in the Buffalo game?
"I missed a few possessions, but we've got it on tape," he said. "Buffalo obviously played great the first half. That was a beatdown the second half (UK outscored Buffalo, 38-14). Certainly their defense was terrific.
"They are extremely talented, a lot like they were in 2011-12," he added of the year UK beat KU in the national title game and also in the Champions Classic. "They are so long, so big. They can all move. They switch a lot of screens. Their big guys for the most part are agile and active. They have all the pieces to have a great team, obviously. We are going to have to be smart. We're going to have to attack pressure. We're going to have to do a lot of things. On the flip side, hopefully we'll be sound enough we can create some problems for them, too."
Lots of wins: Kentucky and KU rank 1-2 on the all-time wins list with 2,142 and 2,127, respectively. North Carolina is third with 2,116.
"There's a lot of history in these two programs. It's going to be a fun matchup," Traylor said.
"Their program is so tradition-rich. It's the blue bloods. Ours is right with them," Self said. "They've got a big part of their program from the University of Kansas, obviously, with coach (Adolph) Rupp having played here for Dr. (Phog) Allen. It'll be fun. There's a lot of history there. I don't think kids today think about that too much. I think they are just worried about playing guys they got to know on the AAU circuit and playing for pride as much as anything else."
The lineup: Self said he would go with Selden, Traylor, Perry Ellis and Frank Mason III as starters Tuesday. The fifth spot is undecided. Brannen Greene started the regular-season opener with the other four, while Devonté Graham and Sviatoslav Mykhailiuk started one exhibition game apiece.
Calipari after Sunday's close game: "For us to be able to have a game like this, this was a big-time game for us. We needed this. We needed a team that could beat us on the dribble, that wasn't afraid, that played physical, that had an inside presence. And this is it. I mean, now we go to Kansas. It's the same thing. We probably need another hit in the mouth. See where we are. There are no excuses. Well, if I played more, I would really be bad. Really? There are no excuses. You either perform or you don't."
More like this story on KUsports.com