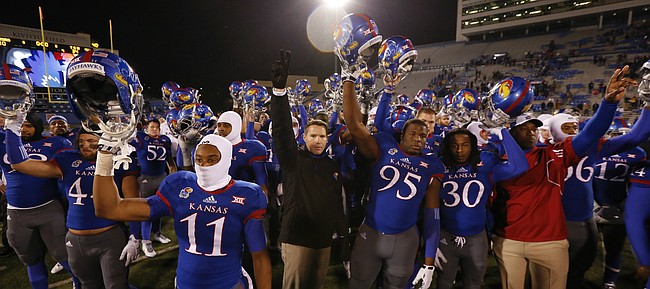 Photo Gallery
Kansas football v. TCU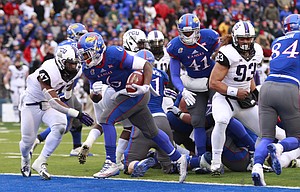 Images from Saturday's game between the Jayhawks and Horned Frogs at Memorial Stadium
TCU 34, KANSAS 30
Talk about going out with a bang.
Saturday marked the final home game in the careers of 21 Kansas University football seniors and, to honor them, a handful of those veteran leaders and underclassmen banded together to push No. 5 TCU to the brink of disaster in a 34-30 KU loss at Memorial Stadium.
Senior linebacker Ben Heeney said he thought the emotions of Senior Day played a big role in the Jayhawks' spirited effort and, in addition to being honored on the field prior to kickoff with their families, the KU seniors were the stars of a pregame video shown only to the team inside the Anderson Family Football Complex.
"I told those guys from the beginning that it's a day they'll always remember," KU coach Clint Bowen said. "We did a few things during the week to emphasize Senior Day because we did want those guys to know how much they were appreciated, and we had a senior video in here and it was a little bit of a tear-jerker."
Asked what that group meant to this team, both during the past few years and into the future, junior quarterback Michael Cummings summed it up with one word: Priceless.
"It was an emotion-filled day, knowing it was their last game at Memorial Stadium," Cummings said. "Their influence on the program and on me personally is priceless."
Tough call
An interception return for a touchdown by JaCorey Shehperd was wiped off the board in the second quarter after the Jayhawks were flagged for an illegal substitution.
Visibly frustrated by the call, Bowen kept his cool when asked about the situation after the game.
"It was a hurry-up snap," Bowen said after a long pause. "I'm not going into the officiating thing. They hurried up and caught us for 12 (players). We thought we had a chance to make a substitution."
While no one argued that KU had 12 men on the field when the ball was snapped, there was some question about the timing of the flag, which came well after the play after officials met near the end zone, and why KU did not get the opportunity to finish its substitution after TCU made its.
Asked if he saw a flag thrown during the play, Bowen again kept it brief.
"I don't know that I did," he said.
Fake or no fake?
Sophomore quarterback and holder T.J. Millweard confirmed after the game that his 10-yard completion to senior tight end Trent Smiley after a botched hold attempt on a field goal try was not intentional.
"We did not plan that," said Millweard of the scramble drill which Bowen said the team works on every Thursday. "It was not called, but I'm happy I could pull it out and make a play."
This and that...
The Jayhawks won Saturday's opening coin toss and chose to defer its choice to the second half. TCU elected to receive the opening kickoff.... KU's 13-10 halftime lead marked the first time since the 2008 Orange Bowl that the Jayhawks owned a halftime lead over a Top 5 team.... Heeney led KU with 11 tackles and KU recorded four sacks, forced two fumbles and snagged an interception.... Temperature at kickoff was 32 degrees, under cloudy skies with 11 mph winds out of the southeast.
More KU football notes against TCU
More like this story on KUsports.com