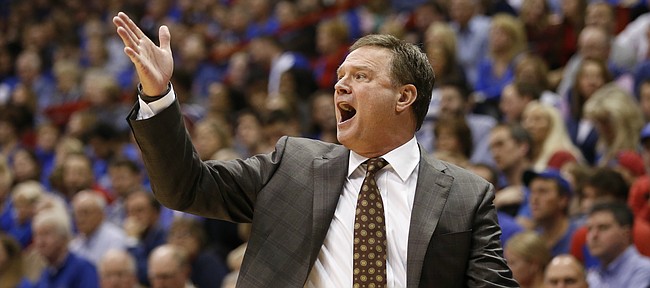 The Kansas University men's basketball team next will meet Kentucky at approximately 8:50 p.m., Tuesday at the Champions Classic in Indianapolis.
Earlier this week, SMU coach Larry Brown, who is mentor of both KU coach Bill Self and UK's John Calipari, this week captured headlines when he said Kentucky's ultra-deep team should go "45-0."
Following Friday's 69-59 victory over UC Santa Barbara in his team's season opener, Self gave his thoughts on Brown's comment.
"Who knows what Larry is doing. He may be mad at Cal about something," Self said with a smile. "But yeah, they're probably a team, I haven't seen them enough, but they're a team that could obviously make a run like that. And they've got more veterans than what you think with some of their returning guys.
"I would say this: Every game they play they're probably going to be favored. So, if you're a favorite every game, the chances are probably pretty good you're going to win. So they're going to have a chance to be a team that could have an unbelievable record. I don't know what philosophy there is, but the goal is to win the last game and sometimes it's best to have that confidence and win a lot and sometimes it is best to go through some stuff where you have to kind of find yourself and grind through it. But they're going to have a terrific record, that's for sure."