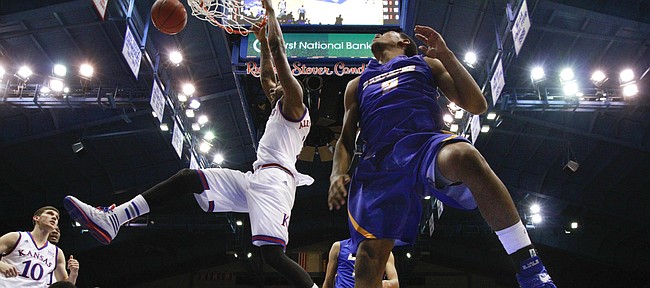 College basketball freshmen arrive at various stages of that transition from style — which is oh-so important at high school games and parties, AAU showcases and recruiting visits — to substance, which earns minutes.
Three of the four freshmen had flashes of brilliance and it hasn't clicked yet for the fourth. Kelly Oubre, projected to go fourth in the next NBA draft by draftexpress.com, was the ninth Jayhawk to enter the game and played four minutes.
Kansas coach Bill Self, seeking his 11th consecutive Big 12 title, didn't sound worried about Oubre's minutes after Friday night's 69-59 victory against a veteran UC Santa Barbara team, and if he's not, why would anybody else lose sleep over it? Past accomplishments and website projections don't determine minutes. Practice performance does.
Whatever it is, he's not doing something to maximize his ability to make Kansas a better team and when he is he'll play, probably extremely well at times. That's how it always goes at places where championships are sought.
During the post-game media session a question sent Self's way was sent back with another question.
"Where was Kelly tonight?" someone asked.
"What do you mean?" Self answered.
"Um, he only played four minutes," came the response.
"Well, it was a coach's decision," Self said. "Just trying to do what's best for our team. It's not a knock to Kelly. You know, he's young."
Nothing motivates an athlete to figure out the path to stardom quite like withholding playing time. He'll be a better player for it in the long run.
Mario Chalmers couldn't advance the ball past half-court against Arizona in Maui nine Novembers ago. He committed seven turnovers in 17 minutes. Now he makes so much money he employs his sister as his style consultant. If he never had developed substance to his game he never could have afforded a style consultant, and really, who wants to negotiate life without a style consultant?
Pure point guard Devonte Graham, who polished his game with a year at a prep school, was KU's best player in the first half. Cliff Alexander, hungry, fast and strong, was the second-half energizer and, for the night, contributed nine points in 12 minutes. Sviatoslav Mykhailiuk, who can't even get into The Cave with an under-21 stamp because you have to be 18 to gain admission to watch others slam drinks, authored the coolest play of the night, for which Alexander received the ovation.
Mykhailiuk, so smooth, such a gifted passer and ballhandler, showed all those qualities on the play of the night. He skied for the defensive rebound, took it up the court, crossed his man over and whipped a pass to Alexander for a nasty dunk.
Graham was without question the best freshman of the night and Self said he expected him to come out of the gate that way.
"You give Svi two more years and you give Kelly one more year or Cliff one more year and they're going to be better players, too," Self said. "He's a year older than those guys."
And Self is 33 years older than them, which gives him the advantage as to knowing the right way everyone needs to play to form a team. It's natural for freshmen to take a while to fully understand that. The ones who figure it out the quickest play the most minutes.