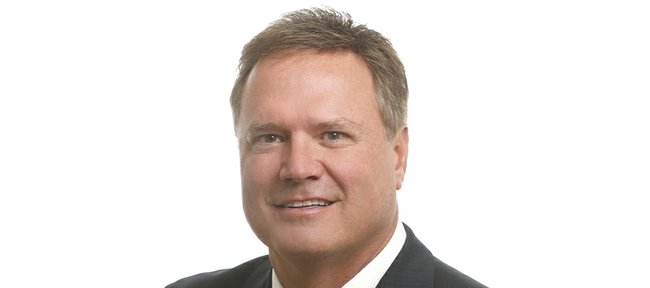 If Kansas University basketball coach Bill Self issued a Most Valuable Player award for the two-game exhibition season, the hardware would go to ... Jamari Traylor and Wayne Selden Jr.
"Even though the numbers aren't unbelievable, I thought Wayne and Jamari were our best guys," Self said on Wednesday's Hawk Talk radio show.
Traylor, a 6-8 junior from Chicago, scored nine points off 4-of-4 shooting with five rebounds, two blocks and a steal in Tuesday's 109-56 rout of Emporia State. He had four rebounds, three points and two blocks in an 85-53 win over Washburn.
Selden, a 6-5 sophomore from Roxbury, Massachusetts, had 12 points off 5-of-7 shooting with six assists, three rebounds and no turnovers in 24 minutes versus Emporia State after scoring five points with four rebounds and two assists against Washburn.
"I thought Mari gave us unbelievable energy in the way he played," Self said. "He never allowed his man to block him off, spun every time, went to the offensive glass, did the things you are supposed to do. Wayne was turned up last night. It didn't translate to points. He did some things that were absolutely terrific."
As far as possible honorable-mention candidates for an award that does not exist ...
"Devonté Graham was really good," Self said of the 6-2 freshman point guard from Raleigh, North Carolina, who had 10 points, three assists and one turnover in 14 minutes against ESU after scoring seven points with three assists and three turnovers against Washburn.
"If you were going to just look at our team, our most talented guys, it'd be hard-pressed not to say Frank (Mason III), Perry (Ellis) and Wayne. But I think there are some other guys in there who do some things to give our team a chance to win," Self added.
Rotation talk: In all, eight Jayhawks scored in double figures against ESU and 11 players logged 12 or more minutes.
"I think we could play nine pretty easy. I think it'll be difficult to get to 10 and 11," said Self, whose Jayhawks open the regular season against UC Santa Barbara at 7 p.m., Friday, in Allen. "I bet early in the season we do get to 10, possibly 11 just because we have to figure out who we want to play. By conference I think our rotation will be shortened a little bit. Not everybody is going to get equal minutes. Beginning Friday, some will play 30, 32 (minutes) and guys playing 18 will play eight depending on the situation. I still think when you are playing close to double-digit minutes you are still playing meaningful minutes."
The lineup: Self said he would start Ellis, Traylor, Selden and Mason on Friday with the one perimeter spot undecided.
"It really didn't work out great with Svi (as starter Tuesday). That doesn't mean we can't do that," Self said, citing nerves as a factor Svi Mykhailiuk had three points off 1-of-5 three-point shooting in 18 minutes. He did have three boards, two assists, two turnovers and a steal. "Brannen Greene (10 points, three boards) played pretty well. He was aggressive and everything.
"One thing about Brannen. He is going to shoot it whether he starts or doesn't. The first time he touches it, he'll shoot it. It's nice to have some offense off the bench, too. I don't know what we'll do with that spot. We'll start the other four, though."
Self said Mykhailiuk played well, just didn't shoot well.
"After watching tape, he's the most conscientious guy we have. He's in the right spot defensively more than anybody else, trying to do what we want him to do," Self said of the 17-year-old native of Ukraine.
Cliff tardy?: Freshman Cliff Alexander was the last of KU's freshmen and last of the big men to enter Tuesday's game. He had 12 points and six boards in 13 minutes.
Self on Hawk Talk alluded to the Chicago forward being tardy as a reason for his not entering until past the 10-minute mark of the first half.
"Cliff did fine. He was last one to (be) put in because he needs to make sure he's on time everywhere he goes," Self said. "I think he's done well. He's picking up stuff so fast and is trying so hard. It's just time before he grasps it all. He's done some good things in our exhibition season."
Alexander was named third-team preseason All-America by USA Today on Wednesday.
Gauchos have top forward: One of the country's best basketball players will be playing for the visiting team Friday in Allen. He's Alan Williams, a 6-8, 265-pound senior forward from Phoenix, who led the country in rebounding at 11.5 a game last season. The Big West player of the year was 12th in the country in scoring at 21.3 ppg.
"He's kind of like Thomas Robinson but is probably a better scorer with his back to the basket than Thomas was," Self said. "He's strong like Thomas, about the same size, maybe a half inch shorter. We know we've got a unique challenge being able to guard a big guy, to see if one guy can guard him or how our help defense is. Usually when you emphasize sagging on the post or helping on the post it means you are not pressuring. We're better when we get out and pressure so we have to do both."
Champions Classic: KU will play Kentucky approximately 8:50 p.m., Tuesday, in the Champions Classic in Indianapolis. Duke will meet Michigan State in the 6 p.m. opener. Next year's Classic will be in Chicago with the 2016 Classic in New York.