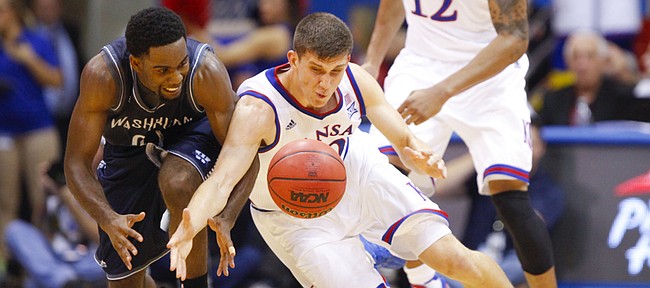 So far, the transition from Ukrainian club team basketball to international competition to college basketball/USA style hasn't overwhelmed 17-year-old Kansas University freshman Sviatoslav Mykhailiuk.
"Svi has probably been as good as anybody in the last few days of practice," KU coach Bill Self said of the 6-foot-8 guard who is listed as a probable starter for today's 7 p.m. exhibition game against Emporia State after his six-point, three-rebound, 16-minute stint off the bench in the opener versus Washburn.
"I think he's really made a conscious effort to try to understand what we're doing. For him to focus in and get it — it's a little bit harder (for him than) others to focus in and get it — because he doesn't understand 'Oklahoman English' that well. He wasn't taught that back in the Ukraine," native Oklahoman Self added with a smile. "It takes him awhile to understand some of the things I'm saying, but he's done very, very well."
Self said unless he changes his mind on game day, Mykhailiuk will join Frank Mason III and Wayne Selden Jr., on the perimeter with Jamari Traylor and Perry Ellis starting in the frontcourt.
"Svi is ... he could be hot or cold right now. He's hit or miss," Self said. "There's been days without question he's been our best player, and there's been days without question, it's like, 'Good gosh, Svi, just make an easy play.' I think a lot of that's going to be with youth. I do see his minutes going up. He needs to be out there because he can do some things from an offensive standpoint and from a position-defender standpoint that he's a little bit ahead of some other guys, so I do see him playing more."
Self said the Jayhawks have installed about "20 things we can do" out of the 90 plays they'll have available by season's end.
He didn't name names of anybody who might be struggling learning the college playbook. Generally speaking, however ...
"It's hard to play guys if they don't know what you are trying to do — the simplest of things when you put them in," Self said. "It's not that it's complicated. You've just got a situation where one guy can totally throw off what everybody else is trying to do. We're more concerned doing what's best for our team as opposed to an individual being able to be out there to play. We'll allow guys to play through mistakes, but they need to have a pretty good grasp of what we're doing to have the confidence to let them play through mistakes."
Sophomore Mason said he struggled learning the playbook a year ago, thus spent extra time with assistant coaches outside of practice and also studied the plays on the team's Internet application.
"It helped a lot. It will be more smooth if they get a chance to do that," Mason said of the newcomers.
Mykhailiuk, who played club ball for Cherkasy Mavpy and also has competed at last summer's Under 18 European championships and FIBA World Cup, has had no problems picking up the collegiate game. He has a good feel for the sport he has been playing a long time.
"I started in school, in second grade. My first coach came to class and said, 'Who wants to go to basketball? We have practice at 3.' I've been playing (ever since)," Mykhailiuk said, noting his mother played high school ball. "I played before in the Superleague in Ukraine. They were 27, 30 years old. I've learned a lot from them."
Known for his shooting (he hit two of five threes vs. Washburn), Mykhailiuk has been hoisting a lot of shots before or after practice with a fellow newcomer.
"Me and Kelly (Oubre Jr) try to do it a lot," Mykhailiuk said. "My expectation here is to be a good teammate, to help my team the best I can."
As far as catching on to English, he actually speaks English, Russian and Ukrainian fluently.
"The whole language barrier sometimes gets him a little bit, and that's kind of funny to watch," junior Hunter Mickelson said, "but he's a smart kid. He's super young (turned 17 on June 10), but sometimes when you watch him practice it's hard to tell. He's got a great mind for the game. He makes quick decisions, ones you see older guys making he's already making."
Off the court ...
"He likes video games just like all of us," his roommate, junior Evan Manning, said. "He asks a lot of questions. He wants to learn. He's really trying to put himself in the culture of this place, which is really cool. He's young, but he's not scared. He's a competitive person. How he played in the World Cup ... he was able to hang in there and play with those grown men from all over the world. He did a great job and is going to be a great player."
Greene OK: Brannen Greene, who suffered a concussion against Washburn, is expected to play tonight, Self said.
Separation: Asked if the players had started to "separate themselves" as Friday's season opener against UC Santa Barbara approaches, Self said: "We haven't had separation like I thought we would both inside and on the perimeter. You could make a case for Cliff (Alexander) in certain situations, Landen (Lucas) in certain situations. You know Jamari and Perry are going to play, regardless. You can make a case for any of our six perimeter players being starters. I'd like to see a little more separation."
About ESU: Former Colorado standout Shaun Vandiver is 40-45 in three seasons at Emporia State. His Hornets are picked eighth out of 14 teams in the Mid America Intercollegiate Athletics Association (MIAA) 2014-15 preseason coaches poll. ... Last season, ESU went 18-13 and tied for sixth in the MIAA with a 10-9 record. ... The Hornets return two starters — junior guards Terrence Moore and Micah Swank — off last year's team. Moore averaged 17.6 points and 4.0 rebounds per game and Swank 6.3 ppg. Other key returnees include sophomore G Jevon Taylor (5.7 ppg), sophomore F Jay Temaat (4.0 ppg) and sophomore F Josh Pedersen (3.4 ppg). ... KU leads the series 19-3. KU beat ESU, 88-54, in the last meeting on Oct. 30, 2012. Ellis scored 15 points and grabbed seven boards, while Lucas had six points and nine boards.