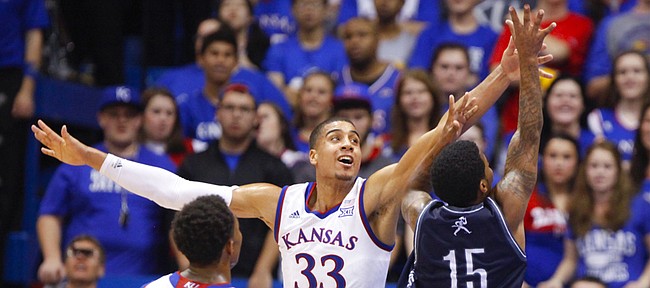 Kansas University sophomore forward Landen Lucas had a rather impressive stat line — nine points off 4-of-4 shooting, with six rebounds and two blocks in just 13 minutes — in last week's 2014-15 exhibition basketball opener against Washburn.
The only eyesore was his 1-of-4 free-throw shooting on a night the Jayhawks hit just 16 of 32 charities in a 85-53 victory.
Will his and his teammates' charity work improve heading into Tuesday's 7 p.m. exhibition finale versus Emporia State?
"Yes, it will," the 6-foot-10, 240-pound Lucas said. "We're slowly starting to emphasize that more and more in practice. It'll start getting better. First-game jitters ... everybody gets those.
"It'll get better as we get into the season," added Lucas, who hit 12 of 21 shots (.571) and 10 of 20 free throws (.500) in limited duty his freshman campaign.
"Some of them weren't close," KU coach Bill Self said of his squad's free-throw work in the exhibition game played a week ago today. "There were some wide-rights and wide-lefts. I do think we'll get better than that. We're better shooters than that.
"I don't know if we'll be a great free-throw-shooting team. We've not had many great free-throw-shooting teams. Last year was about the best we've had (71.1 percent, third-best mark in 11 seasons under Self). I could see this team shooting well above 70. That'd be very realistic about this team."
Errant from the line, the Jayhawks did hit 56.6 percent from the field against Washburn. KU's "bigs" (Lucas, Cliff Alexander, Perry Ellis, Jamari Traylor, Hunter Mickelson) hit a combined 15 of 24 floor shots (62.5 percent) and scored 41 points. The bigs were a combined 10-of-17 from the line (58.8 percent).
"I think we all did well," Portland, Oregon, native Lucas said of the frontcourt players. "I think it's a process. We're definitely going to play inside-out this year."
Lucas has high hopes for 6-8 freshman Alexander, who scored 14 points and grabbed nine boards with three blocks against Washburn.
"He has raw talent," Lucas said. "He's coming along fast."
Self was asked on his "Hawk Talk" radio show about Alexander's ability to block shots.
"Cliff can be a good shot-blocker for his size," Self said. "I don't think we should anticipate him blocking the number of shots Joel (Embiid), Cole (Aldrich) or Jeff (Withey) did because their size allows them to do those things. I don't know anybody who was a better shot-blocker in their time here than Jeff was his senior year. We can only hope we can sign somebody who can block or alter shots like Jeff. He totally changed the game defensively for us."
More like this story on KUsports.com