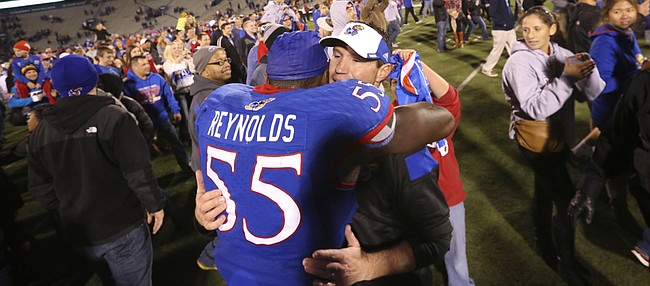 There's a reason Clint Bowen, Kansas University's interim head football coach of six weeks, keeps deflecting all of the attention and praise thrown his way onto his players.
He believes they deserve it, not just for continuing to work hard in the face of adversity, maintaining great attitudes as the losses have piled up year after year or responding to pretty much everything he has thrown at them since taking over for Charlie Weis in late September. Bowen says such actions from the Jayhawks — particularly the senior leaders — have done wonders to keep the coaches' heads up during tough times as well.
"They never come to practice not ready to work," said Bowen, still smiling after Saturday's 34-14 victory over Iowa State at Memorial Stadium. "Every day when we go out there, we group up before we take the field, and we run on the field, and no matter what you think their mood is going to be that day, they just keep fighting back. They're a resilient group of young men. If you ever did want to quit, they wouldn't let you."
The 100 or so guys on the KU roster are not the only ones Bowen appreciates for helping him land his first victory as a head coach. Bowen shared a lot of Saturday's success with the KU coaching staff, a group he did not put together but one he has worked closely with and tweaked during the past few weeks.
"I had tremendous help along the way," Bowen said, asked if the victory validated all of the work he has put in while carrying the titles of interim head coach and defensive coordinator. "There's so many people in this program that bend over backwards to help, from the administration, the managers, everyone across the board. We have so much help that it makes it a pleasure to come to work every day. We all work extremely hard. All the coaches, everyone; it was a true program win."
The scene that unfolded on the sideline in the waning moments provided proof of what the victory meant to the program.
Senior linebacker Ben Heeney remembered the chatter that led up to Bowen's first career Gatorade bath.
"A lot of people were telling us, 'No, don't do it, don't do it yet, he still has his headset on,'" Heeney recalled. "But he can buy a new headset, man."
A few minutes later, with the victory officially in the books, overjoyed fans rushed the field to celebrate with the Jayhawks and eventually made their way to the south end zone to tear down the goal post, a sign of jubilation that has been a part of KU football for as long as Bowen has.
Asked for his thoughts on the practice, Bowen allowed himself to peek into the future ever so briefly.
"Well, I hope we get to where we win enough games that it's what we expect to do," he said.
TCU opens as heavy favorite
KU's next opponent, fifth-ranked TCU, opened as a 24.5-point favorite over KU (3-6 overall, 1-5 Big 12) for Saturday's 2 p.m. kickoff at Memorial Stadium. Less than four hours after this week's lines were released, the number jumped to TCU -28.
The Horned Frogs (8-1, 5-1) enter on the heels of a 41-20 victory over Kansas State.
More like this story on KUsports.com