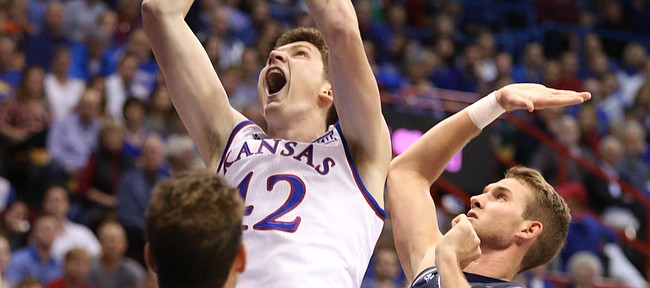 A big-time shot-blocker in his two seasons at the University of Arkansas, Hunter Mickelson erased two of Washburn's attempts Monday in his 12-minute Kansas University exhibition basketball debut.
The 6-foot-10, 245-pound transfer from Jonesboro, Arkansas — he set the U of A record for rejections (72) as a freshman in 2011-12 — says the plan is for more of the same in his final two seasons at KU.
"I think so. I'm going to try to," Mickelson said of targeting opponents' shot attempts. "Hopefully it'll be a thing I'll be good at, something I'm able to provide for the team.
"Between the both of us (him and Cliff Alexander) and all the other big guys and everybody else, I think we'll play solid on defense, and it'll lead to blocked shots, create turnovers and opportunities for us," Mickelson added.
Mickelson, a player KU big-man coach Norm Roberts has referred to as "one of those quiet tough guys," on Monday played in his first game since arriving at KU in the summer of 2013. He was able to practice but not allowed to play in games in 2013-14 in accordance with NCAA transfer rules.
Was he was nervous in wearing the KU jersey before the Allen Fieldhouse fans for the first time?
"A little bit," Mickelson said. "I had to sit out a year. There's that and all that time that took. Just getting through that was kind of rough.
"I'm here now. I'm glad to be here with these guys. I'm glad to have the opportunity to come out here and play."
Mickelson, who scored six points off 2-of-4 shooting (2-for-2 from line) and grabbed four rebounds in KU's 85-53 victory, said he chatted with freshmen Alexander, Devonté Graham, Sviatoslav Mykhailiuk and Kelly Oubre Jr. before their debuts.
"I'm kind of a new guy, too, as far as how things are done around here," Mickelson said. "I transferred in and had to sit my year. It was definitely a learning experience, so I talked to them a little bit, gave advice where I could. For the most part, I'm still learning like everybody else."
Mickelson and Landen Lucas are KU's two tallest players at 6-10. Lucas went for nine points, six rebounds and two blocks in 13 minutes versus Washburn, while 6-8 Alexander had 14 points, nine boards and three blocks in 17 minutes and 6-8 Jamari Traylor three points, four boards and two blocks in 14 minutes. Inside-outside player Perry Ellis, also 6-8, had nine points and a rebound in 20 minutes.
"I think we did pretty well. It's our first game. We've got to get a feel for it," Mickelson said of rebounding. KU outboarded the Bods, 46-40. "Once we do and we all come together, I think we'll do great.
"I think he did great for the first time out," Mickelson added of Chicago freshman Alexander. "It didn't seem he was that nervous. He handled the pressure. Being the first game, he handled it well. He did a good job. I think we did really well. I think we all had a good time. For the first game, I think everybody got a feel for it. It was pretty good for everybody."
What lies ahead for Mickelson's upcoming role in Tuesday's 7 p.m. exhibition versus Emporia State and regular-season contests down the line?
"Hunter is a prototypical four-man. He's a face-up guy," coach Bill Self said. "I think the challenge for him is to play bigger than what he is or what (he) has been, because, I could be wrong, but I can't see anybody beating Perry out.
"So what is best for the team if Perry is on the court would be to have somebody that can keep him from defending the five, somebody that can keep him from having to be the primary rebounder all the time, somebody that can keep him from having to play on the post because another guy can get angles and get easy baskets.
"The reality is, Hunter with his skill set will probably have to do some more things in order to see playing time just because of what our needs are based on our other personnel. But you are right. He's our best shot-blocker. Cliff's going to be a good one, but Hunter is a guy that, people don't realize this, Hunter blocked more shots at Arkansas (39 his sophomore season, 72 the first) than Jo (Embiid, 72 blocks) did last year in less minutes. So he's naturally a pretty good shot-blocker."
Self continued: "I think Hunter's got potential, sure. It'll be curious to see. Our guys are not that far apart from a talent standpoint. It'll be more so what team is better with them in the game. If our team is best with Landen in the game, he could be a starter. If it's Cliff, Jamari, whoever ... Hunter can play. Depending on who else is in the game ... we'll have to wait and see."
More like this story on KUsports.com