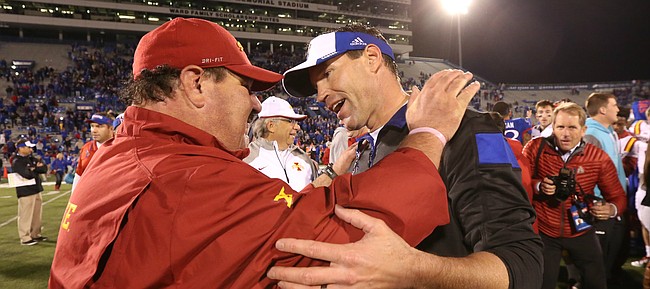 The Kansas University football team was not a very gracious host in welcoming former KU head coach and current Iowa State offensive coordinator Mark Mangino back to Lawrence for the first time since his ugly departure following the 2009 season.
During a 34-14 victory at Memorial Stadium, the Kansas defense forced Mangino's ISU offense into three-and-outs on four of its first five possessions and surrendered just 89 yards and four first downs during a first half dominated by the Jayhawks.
After the game, Bowen did his best to soften the blow by expressing how much Saturday's reunion with his old boss meant to him.
"You know, his message was just, 'Congratulations on the win,'" Bowen said when asked about his postgame exchange with the man he spent seven years working under from 2002-09. "And it's probably more my message to him, that I truly appreciate everything he's always done for me for a long time, personally, professionally. He's had a huge impact on my career. There's so many things that I've done in the last four weeks that I learned from Coach Mangino. The guy is a tireless worker, put his heart and soul into this program, and I think anyone that's a Kansas fan should appreciate that."
Celebration city
As has been the custom around Lawrence for years — particularly lately with victories being tougher and tougher to come by — hundreds of KU fans stormed the field to celebrate Saturday's win and then proceeded to tear down the goal post in the south end zone and march the pieces to Potter Lake up the hill.
"Any time you can share an experience like that with the student section and give them a reason to come to the game is pretty exciting," senior tight end Jimmay Mundine said. "And the locker room was crazy. We went out and did what we expected to do and that's why we were celebrating how we were. There's so many times when we've let ourselves down and tonight we actually went out and executed on all cylinders."
Richardson sits
ISU quarterback Sam Richardson entered Saturday's game as one of eight players in the nation leading his team in rushing and passing. It certainly did not hurt KU's chances, then, when Richardson was seen in sweats on the sideline during pregame warm-ups.
Bowen said he had heard the rumors that Richardson might not play, but said KU did not change its preparation much because of it.
"I thought he was going to play," Bowen said. "But there's not a tremendous amount of difference between the two quarterbacks."
Grant Rohach started in Richardson's place and finished 25-of-50 passing for 275 yards, two touchdowns, one interceptions and four sacks.
Stowers, Mann, Neal held out
Injured Jayhawks Keon Stowers, De'Andre Mann and Derrick Neal did not play in Saturday's victory.
Bowen had said the team hoped to have Mann and Stowers back in time for the game, but neither suited up. Stowers did, however, play a part. He was one of a few Jayhawks who helped organize the Gatorade bath given to Bowen as the final seconds ticked away.
Of the bath, Bowen said: "You know, I've always seen those. They're a lot colder than you think. Honestly about the greatest feeling of my life as this coaching thing goes."
Impressive improvements
The Jayhawks filled up the stat sheet with several solid numbers, but three areas in which the team has struggled all season jumped out above all others.
KU converted 11 of 20 (55 percent) third-down chances, a significant notch above their 33-percent total entering the game, and also finished 6-for-6 in the red zone. KU was just 13-for-19 in red zone trips all season. In addition, Kansas dominated time of possession, holding the ball for 37:33 compared with just 22:27 for ISU.
This and that...
The Jayhawks lost Saturday's opening coin toss and chose to receive the opening kickoff after ISU elected to defer its choice to the second half.... Saturday's victory snapped a five-game losing streak this season and an eight-game Big 12 Conference losing streak.... Improved Kansas to 3-2 at home this season.... The Jayhawks did not punt in the first quarter for the first time since a Nov. 17, 2012 loss against Iowa State.... Temperature at kickoff was 53 degrees, under sunny skies with 20 mph winds out of the northwest.