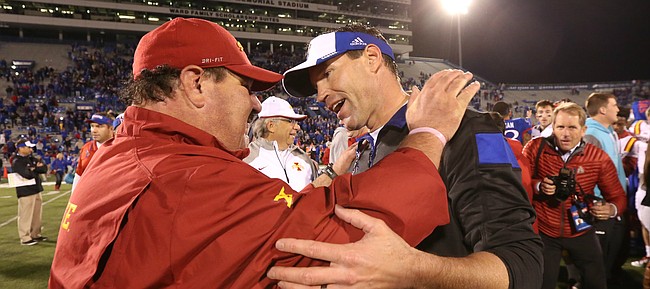 Photo Gallery
Kansas football v. Iowa State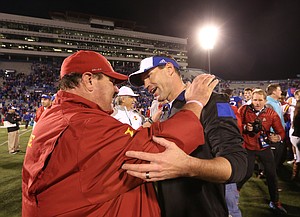 Images from Saturday's game between the Jayhawks and Cyclones at Memorial Stadium.
KANSAS 34, IOWA STATE 14
Paul Rhoads was focused on shaking the hands of Kansas University's coaches and players, not the KU students who stormed the field after the Jayhawks' 34-14 victory over his Iowa State Cyclones on Saturday at Memorial Stadium.
"I didn't see them," Rhoads said after ISU (2-7, 0-6) fell into sole possession of last place in the Big 12 Conference. "This is a bad loss,. That's not a knock on KU (3-6, 1-5). It's not about the opponent. That's about the worst half of football that we've played in my six years here at Iowa State, (which) took place in the first 30 minutes of the game, and I'm ashamed of that."
He was especially dismayed at his squad's slow start.
Iowa State netted negative-three yards in the first quarter in falling behind, 17-0. ISU trailed, 24-7, at halftime.
"Well, they started fast. We started in reverse, meaning slower than slow," Rhoads said. "We did not start the game with the right frame of mind you need to play Div. I football. It's a fast game. It's a physical game. It's a violent game. It's a game that demands you do things right. Your assignments ... you've got to do them right mentally. You've got to do them right physically, and we weren't doing hardly any of that to start the game. We had good practices that we don't carry over to game day. The first quarter was an onslaught."
Quarterback Grant Rohach, who subbed for the injured Sam Richardson, completed 25 of 50 passes for 275 yards, two touchdowns and an interception. He was sacked four times and finished with minus-12 rushing yards off seven carries.
"Yes, I don't know a feeling much worse than this," the sophomore signal-caller said, asked by a media member if it felt like ISU had hit "rock bottom."
"We have to play better as a whole. I hate to say that this late in the season, (but) we can improve in all areas. I think our chances of a bowl game are gone now, but, I mean, we've got to play for pride now. As tough as that is to swallow, we've just got to get better as a team."
He blamed himself.
"You can't play that poorly as a quarterback and expect to win a game," said Rohach, who learned he'd be starting Thursday with Richardson not fully recovered from a shoulder injury sustained against Oklahoma. "When you get down by that much, you'd like a comeback, but when you start that poorly and miss easy throws continually and early on, you can't expect to win. You guys (media) know I put a lot of blame on me and ... it's just rough, just rough."
ISU will have a bye next week, then meet Texas Tech at home on Nov. 22.
ISU offensive coordinator/tight ends coach Mark Mangino, whose offense gained 373 yards (to KU's 514), was unavailable to the media after the game. The Cyclone assistant coaches do not speak to the press on game day.
"Some of the teams that we had at Kansas weren't always the most talented," the former KU head coach told the Des Moines Register in days leading up to the game. "But, boy, those kids played their tails off, and they gave their best every day. And that's all you can ask as a coach.
"I wish it wasn't that way," Mangino said of the program falling on hard times since he left. "Not only me, but coaches and players and some people put a lot of hard work, hours upon hours, gave up weekends, gave up family time to make that program better. And to see some of the things that have taken place, I can't help but be a little disappointed."