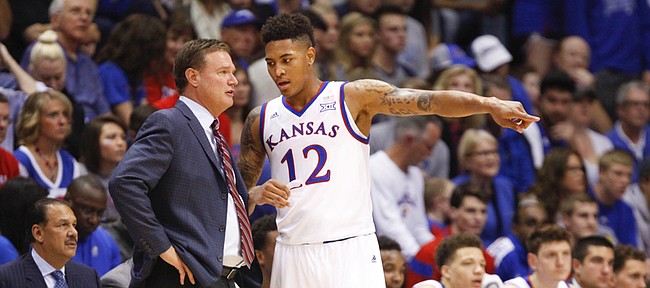 Kansas University, which started the freshman trio of Andrew Wiggins, Joel Embiid and Wayne Selden Jr. in 20 of the squad's 35 games, fielded one of the youngest elite college basketball squads in the country a year ago.
Now eight months later ...
"I think we're younger this year than we ever have been," 12th-year KU coach Bill Self said Thursday.
He started one freshman (Devonté Graham) and two sophomores (Frank Mason III, Selden) in Monday's exhibition opener against Washburn and brought in three freshmen (Cliff Alexander, Sviatoslav Mykhailiuk, Kelly Oubre Jr.) off the bench.
Nobody will be surprised if Alexander and Oubre start at some point in 2014-15.
"Last year Naadir (Tharpe, junior) had good feel. We started three freshmen, but Jo (Embiid) was smarter than any senior we've ever had for the most part," Self said. "We're younger in our mind this year too. Last yearwe were beyond our years from a basketball IQ. This year we have more to learn from that standpoint."
The Jayhawks are especially young at the point guard slot with Mason and Graham.
Selden also will play some lead guard to go with his spot on the wing.
"I think we'll be good at point. I don't think Frank and Devonté have been near as consistent as what they need to be," Self said. "I'd really love to play Frank off the ball but Devonté has to come on in order for us to do that or Frank will end up being our starting point guard."
Self said the biggest thing the 6-foot-2 Graham must do is, "be a leader. If we get a shot every possession and don't throw it out of bounds and he can pressure the ball and create some havoc defensively, that's all he has to do to be our point guard, but he's inconsistent right now. He's going to be good. He's just young."
Greene OK: Sophomore Brannen Greene, who suffered a concussion in Monday's game, shot on the side and ran through some non-contact drills on Thursday. "He's bouncing around out there like there's nothing wrong with him. I think he'll be fine," Self said.
Free throws: Self, who answered fans' questions on Twitter on Thursday, said the Jayhawks would shoot 100 free throws on their own for every one missed in Monday's game. KU hit 16 of 32 charities vs. Washburn.