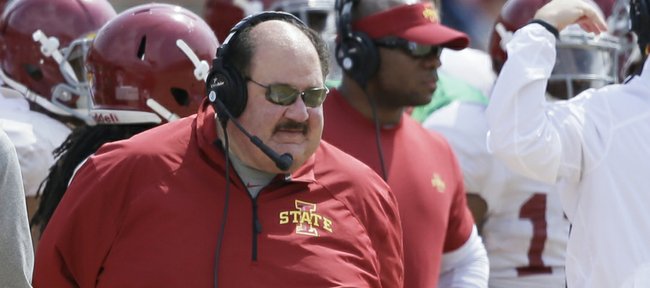 It's been 1,817 days since Mark Mangino last coached a game inside Kansas University's Memorial Stadium, but the wait for his return is down to four.
Mangino, Iowa State's current offensive coordinator who won 50 games as KU's head coach from 2002-09, will return to the town where he became a fan favorite and the 2007 consensus national coach of the year on Saturday, when the Cyclones (2-6 overall, 0-5 Big 12) invade Lawrence for a showdown with the Jayhawks (2-6, 0-5).
While the game figures to stir up a variety of emotions for KU fans, former players and even a handful of coaches on both sides of the field Saturday — KU's Clint Bowen and John Reagan coached under Mangino at Kansas and ISU assistants Tommy Mangino and Brandon Blaney also were on his KU staff — Mangino on Tuesday night sounded much more focused on fixing the ails of the Cyclones than reminiscing about the glory days at Kansas.
"KU's a great place and (I) had a lot of fun there and met a lot of wonderful people," Mangino said during a 12-minute conference call with Kansas media. "Many people from Lawrence and affiliated at one time or another with KU have text me, emailed me, Tweeted me and I sincerely appreciate that. But it's really a business trip. Maybe after the game I might feel differently but not going into it."
Despite his focus being almost entirely on finding a way to solve the Kansas defense on Saturday, Mangino said the mere thought of coaching in a game with so many guys who once worked for him was a source of pride.
"I'm proud of all of them," Mangino said. "They're all good individuals. They're all very good coaches. They're better human beings. I'm very proud of them. For about three hours or so Saturday, I'm not gonna be real fired up about a couple of those guys on the other side of the field, but after the game I will again. There's friendship and there's competition and we never get those mixed up."
Asked specifically about his memories of Bowen, Mangino painted a picture that Jayhawk fans have come to know more closely during the past few weeks.
"Clint was a hard worker," he said. "He cared deeply, he does care deeply about the program at Kansas and has a deep affection for the University of Kansas and he gave his best every day."
It's been three or four years since Mangino was last in Lawrence. He said it was the spring of 2010 or 2011 and he and a buddy drove a van from Naples, Fla., to Lawrence to pick up some boxes of football files still stashed in his old garage that he needed to clear out before the sale of his home. The road trip included a stop in Manhattan to visit with Bill Snyder and a stop in Norman, Oklahoma, to meet up with OU coach Bob Stoops, but before he could get to either, Mangino and his boxes of files piled high in the back of the fan were stopped by a Kansas Highway Patrolman.
When the officer approached the driver's window, he looked in and said, "I think I know you." Mangino shrugged it off and said, "Nah, you don't know me." The officer responded with, "Yeah, you're coach Mangino," and the former KU coach answered with, "Well, I'm hard to hide, huh?"
After a little conversation, the patrolman let Mangino go but not before asking him to clear the boxes out of the window. It was merely the latest in a long line of good memories Mangino has about his time in Kansas.
"Not only me, but assistant coaches, strength coaches, trainers and a whole bunch of football players worked incredibly hard to bring respectability to that program," Mangino said of his 50-48 record in seven seasons at KU. "And I'm proud of all those people and proud to be associated with all of them."
Mangino on KU linebacker Ben Heeney, whom he began to recruit before leaving KU:
"Ben Heeney is a fabulous football player. The guy's a tackling machine. He plays this game the way you're supposed to play it, with a great deal of intensity every snap. I've got a great deal of respect for the way he plays the game."
Mangino on whether he still uses his "Keep Sawin' Wood" phrase:
"You bet. I live by that. It's not just a good motto. I have tried to live my life by that and it just means keep going. When things are good, keep the steady pace and when things are bad, keep a steady pace."
Mangino on getting back into the Big 12 and challenges at Iowa State:
"The way I feel about this situation here is, we're in a position where we need to win some games. We're sitting at 2-6 and, really, I'm more focused on getting our offense together and playing really well down there in Lawrence. That's always been my approach to games."
"In my 30 plus years of coaching, I have never experienced the amount of injuries we have had there this season, on both sides of the ball. It's staggering."
"The challenges are not as great as you would think, at least from my perspective, because we have an incredibly hard-working bunch of kids that really care about how they play and about winning."
More like this story on KUsports.com