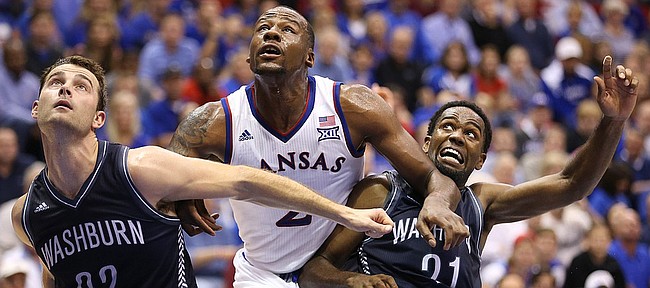 Photo Gallery
Kansas basketball v. Washburn (exhibition)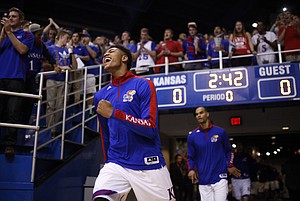 Images from the Jayhawks' exhibition game against the Ichabods on Monday at Allen Fieldhouse.
Podcast episode
Following an 85-53 Kansas University basketball win over Washburn, coach Bill Self describes the things he liked and didn't like so much about the way the Jayhawks played. Self admitted KU showed some signs that it could be very good on defense eventually.
Podcast episode
Kansas University players Frank Mason, Devonté Graham and Cliff Alexander meet the media to discuss the Jayhawks' exhibition opener, an 85-53 victory over Washburn.
The respect and admiration from the Washburn University basketball team that lost 85-53 to Kansas University's deep, young and roster during an exhibition game at Allen Fieldhouse on Monday night came through loud and clear during the Ichabods' postgame news conference.
Sophomore forward Jeremy Lickteig, who finished with five points and three rebounds in 10 minutes, talked about walking into "the belly of the beast," and WU coach Bob Chipman summed up his thoughts about the Jayhawks in a single word — Wow.
"I told (KU) coach (Bill) Self after the game, 'I hope we gave you just enough to break a sweat there,'" Chipman said. "They were so dominant. Wow, were they good? We looked helpless at times."
In its first of two exhibition games to start the season, Kansas played 15 players — 11 in the first half — and jumped out to leads of 18-5, 31-9 and, finally 42-13 at the halftime break. Chipman and his players said they knew KU was talented and would be a tough match-up, but said seeing it up close and personal was a completely different experience.
"We had five field goals and one assist in the first half," Chipman marveled. "And we're not that bad. They took us out of everything we wanted to do."
All three Washburn players who spoke with the media after Monday's loss pointed to KU's superior size and added that they were not prepared for such big bodies because they get so used to playing against each other. The tallest player on Washburn's roster is 6-foot-8 freshman Stephon Drane and only four other Ichabods stand 6-5 or taller.
"Those guys were big," said WU leading scorer Korey Fisher, who tallied 14 points in 18 minutes. "Of course you want to go out and do good, but this lets us really see where we are going into our season."
Junior forward Christian Ulsaker, a McPherson native, said playing in Allen Fieldhouse was a thrill and Chipman said Self spoke to his team during a shoot-around to put the cherry on top of the entire experience.
"It didn't look like it tonight, but I guarantee you that will be worth five victories for us this year," said Chipman, whose squad will finish up the week playing at Oklahoma and at Kansas State.
As for how many victories he thought the Jayhawks might get during the 2014-15 season, Chipman did not put a number on it, but also left nothing to the imagination.
"It looks like another fun year for Kansas basketball," he said. "They look good to me."
More like this story on KUsports.com