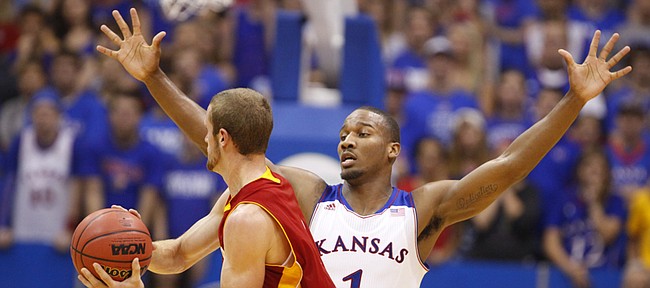 Wayne Selden Jr. had severe stage fright on opening night of the 2013-14 basketball season.
"It was unbearable," Selden said of the jitters he incurred before his debut in a Kansas University jersey — a 97-57 rout of Pittsburg State on Oct. 29, 2013, in Allen Fieldhouse.
"I was real nervous. I didn't know what to expect. The first couple times in the fieldhouse ... it was too loud for me. Even though they were cheering for me, it was too loud for me. I'm excited to get back into it," added the 6-foot-5 sophomore from Roxbury, Massachusetts, who wound up with five points and four turnovers in his collegiate opener.
Selden would expect KU's current freshman scholarship class of Cliff Alexander, Devonté Graham, Sviatoslav Mykhailiuk and Kelly Oubre Jr. to have just as many butterflies as past rookies in tonight's exhibition opener versus Washburn (7 p.m., Allen).
"Definitely. You're not normal if you don't feel that nervous," Selden said.
KU coach Bill Self said it's common for all newcomers — walk-ons to one-and-dones — to have trepidation during their KU debuts.
"Oh, yes, Andrew was really nervous," Self recalled of Andrew Wiggins, No. 1 pick in the 2014 NBA Draft. He had 16 points and six boards against Pitt State last season. "Of course, Andrew was nervous at Late Night. He said that was the most nervous he's ever been until probably opening night two nights ago (in NBA). All the guys will be nervous, and hopefully it'll be a great crowd. I'm sure there will be, and I think it'll be great to see how the guys react.
"Some guys are gamers," Self noted. "Some guys we don't know how they're going to react. Some guys are great practice players, get in the games, maybe they get tight. Some guys don't practice that well, they get in the games, and (I'll say) 'Wow, I haven't seen that the whole time in practice.' You want everybody to play like you practice, but every coach knows that's a perfect world. That doesn't always play out that way. I'm excited to see how these guys react."
KU junior Perry Ellis hopes the Late Night in the Phog experience will help soothe the newcomers' nerves.
"That helped with a lot of that stuff, those jitters," Ellis said, "but I remember the first game my freshman year, I was pretty nervous. I'll tell them to get out there and play hard and play like we've been doing in practice and everything will be fine."
Probable starters: Self said he expected to open with a lineup of freshman Graham, sophomores Selden and Frank Mason, junior Ellis and junior Jamari Traylor.
Is there any significance to the opening fivesome?
"None whatsoever," Self said. "Everybody's going to play."
Sophomore forward Landen Lucas is questionable. The stress fracture in his lower leg that kept him out a couple of weeks has been bothering him again.
The foe: Located in Topeka with an enrollment of 7,002, Washburn was picked third in the 2014-15 Mid-America Intercollegiate Athletics Association preseason poll behind Central Missouri and Fort Hays State. ... Washburn returns three starters and seven letter-winners off a 17-10 team that tied for sixth in the MIAA (9-9). Alex North averaged 16.1 ppg and 10.1 rpg last season, while Kyle Wiggins averaged 15.0 ppg. ... KU leads the series 36-3. Washburn's last victory over KU was a 40-35 decision on Dec. 4, 1944, in Topeka. ... Self is 6-0 vs. Washburn; Bob Chipman is 0-9 vs. KU.
Veteran coach: Chipman is 757-314 in 35 seasons at Washburn.
"I worked with him a lot this summer (at Chipman camps)," Selden said. "He's a great guy. He took us in as one of his own players when we went to work his camps. We never really talked much about the season."
"Chip is great," Self added. "We have a very good relationship. He's been very good to our players over time and always represents the school in a first-class way and is very thankful that — as the other schools are, too — that have a relationship with Kansas so that we do this every other year with every school in the state. Certainly I hope this helps his team, too. He had a very good team last year.
"I anticipate this being a competitive game and one in which I'd like to see how our guys react to the lights, to be real candid."
Young guards: "Mason is a scorer. Devonté is real smooth, gets open shots for other players. They are both doing real well now. I love playing with both those guys," Ellis said.
Noted Self: "Devonté is probably the purest point. Frank is kind of a scoring point. Neither Frank nor Conner (Frankamp, who has decided to transfer) are true points. They're one-and-a-halves or whatever. Devonté is probably the truest point, and I'd say we're going to play two little guards the majority of the time. Well, it may not be the majority of the time now (following Frankamp leaving team). It'll be some of the time they'll play together, but obviously you can't play them together all of the time because we only have two little guards. I think Wayne Selden can become our third point guard, though."
Kenney dies: Bob Kenney, a starter on KU's 1952 NCAA champion basketball team and 1952 Olympic gold medalist, died on Oct. 27 at the age of 83.
Kenney grew up in Douglas and Winfield, most recently residing in Scottsdale, Arizona.
After college, Kenney worked at Honeywell, A. B. May and Hardin Stockton/Coldwell Banker real estate, where he retired as President of the Kansas City area offices. Bob retired early to spend time at his home in Hawaii. He moved to Scottsdale in 1995 where worked part time at the Paradise Valley Tennis Club.
Bob is survived by his daughters Kirsten Kenney, and her husband Bob Dillon, of Scottsdale, Arizona, and Karen Kenney, and her husband Mike Rakes, of Overland Park. Per his wishes, there will be no formal memorial services. Bob's ashes will be spread in Lawrence and Hawaii. To help endow an athletic scholarship in Bob Kenney's name, contact KU Endowment Association, Bob Kenney Memorial Fund, PO Box 928, Lawrence, 66044 or kuendowment.org in the Make a Gift section.
More like this story on KUsports.com