Photo Gallery
KU at Big 12 cross country championships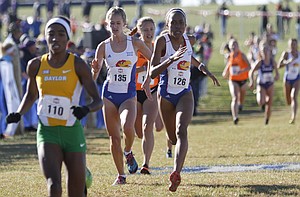 The Kansas cross country teams competed at the Big 12 men's and women's cross country championships Saturday at Rim Rock Farm.
Kansas University junior Jacob Morgan placed fifth overall at the Big 12 cross country championships Saturday at Rim Rock Farm to lead the Jayhawks men's team to finish fifth on its home course.
Morgan became the first Jayhawk since 2007 to crack the top five in the Big 12 meet. His 8,000-meter time of 24:16.2 helped him earn the Big 12 Men's Cross Country Newcomer of the Year award.
"I'm happy with it. I did a fairly good job of being conscious of where the big players were and being able to move when they moved," Morgan said. "I responded to their moves fairly well, but I wish I could've stuck to the front guys a little better at the end."
Senior James Wilson and freshman Chris Melgares rounded out the Jayhawks who finished in the top 30. Wilson placed 21st with a time of 24:49.70, while Melgares came in at 25:00.2 to finish 30th.
Oklahoma State won the meet on the men's side for the seventh straight year by placing seven runners in the top 12, including champion Kirubel Erassa. The Cowboys' senior clocked in with a time of 24:08.3.
The four teams that finished ahead of the Jayhawks were all ranked in the top 30. Following No. 4 OSU were No. 26 Oklahoma, No. 30 Iowa State and No. 29 Texas.
"Everyone's strategy was about the same: Don't press it too much at the beginning, and then when it's time to start running, you open up and go," Kansas coach Stanley Redwine said. "Every team did the same thing. I thought we did really well there, but toward the end a little bit, some of the more experienced people, they beat us. We just have to continue to get better."
Redwine had similar thoughts for the Kansas women's squad. The KU women took eighth overall with 201 points.
"Eighth place is not as good as we wanted to be, but we had some individuals who I thought did a really good job," Redwine said. "We went out and really wanted it too much at the beginning, and it didn't pay off at the end."
Sophomore Nashia Baker finished 36th overall to lead the Jayhawks. Baker crossed the finish line with a 6,000-meter time of 21:40.7, just four-tenths of a second faster than teammate Rachel Simon.
"I think we were pretty aggressive," Baker said. "I think we found each other through the race, which is good. That's what coach is looking for so that was a good race overall."
Iowa State continued its dominance of the Big 12, winning its fourth straight league championship. The Cyclones took three of the top four spots, with junior Crystal Simon leading the pack on her way to the women's title. Simon beat out fellow Cyclone Katy Moen to win it with a time of 19:48.8.
The Jayhawks will have a weekend off before competing in the NCAA Midwest Regional Championships on Nov. 14 in Peoria, Illinois.
Morgan believes that seeing some stiff competition in the Big 12 will only benefit the Jayhawks at regionals.
"We'll definitely look back on it and try to see what we could've done better and try to do so in regionals," Morgan said.
More like this story on KUsports.com