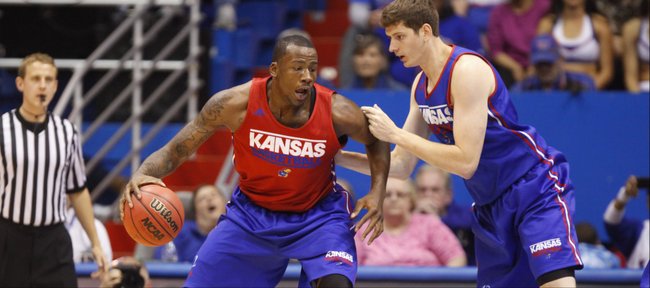 Co-Big 12 Preseason Freshman of the Year Cliff Alexander has made steady progress during Kansas University's practice sessions the past several weeks.
So says 12th-year Jayhawk coach Bill Self, who reports that Alexander, the 6-foot-8, 240-pounder from Chicago, "has done great. He's a pleaser. He's trying to do exactly what we want to do. I just think he needs a lot of reps."
Self cautions that the McDonald's All-American — who averaged 24 points and 15 rebounds a game a year ago at Curie High — is far from a finished product entering Monday's exhibition opener against Washburn (7 p.m., Allen Fieldhouse).
"Him being out the whole summer (with severe right-ankle sprain) didn't help him at all, and so he's a little bit behind with simple things, whether it be pivoting or being able to fan the ball out of the post, just things that he's never had to do because he just caught it and mauled people in high school, and you can't do that obviously at this level," Self stated.
"I'm worried about Cliff because I think there's a chance he could surpass Jeff Graves in the quickest five fouls in the history of KU basketball or whoever one of our biggest foulers were," Self added with a smile, quickly recalling Tarik Black's foul-prone nature last season.
"Tarik averaged more fouls than rebounds and points until Christmas, and Cliff has the same potential to do that. But when he gets it, he's going to be really good. I think by the end of the year, he could be one of the harder players to deal with in the league."
Alexander, who finished tied with Texas' Myles Turner in the preseason freshman-of-the-year voting, has worked diligently on a lot of things — including a baby hook shot, post moves and defensive positioning — since arriving on campus.
"Cliff is learning every day," junior forward Perry Ellis said. "He's getting real good. If he just keeps improving on little things in our offense like setting screens and the right angles and hitting the defender, things like that, he'll (be even better).
"We've been working on traps that teams might throw at us. He's getting better at passing out of traps. He's a good passer."
Freshmen ranked as highly as Alexander (No. 4 in Class of 2014 by Rivals.com) must learn quickly these days, with so many headed to the NBA after just one season.
"He's getting better every day. That's the biggest thing," KU sophomore guard Wayne Selden said. "He's really moving fast. That's always a positive. Jo Jo (Embiid, one-and-done to Philadelphia 76ers) didn't come in here as the best player on the team. Toward the end of the year before he got hurt, he was arguably our best player. That's progress."
Added Self: "Markieff and Marcus (Morris), all those guys took a little bit of time. Joel took time."
Self has said he sees a little bit of former KU forward Thomas Robinson in Alexander, though Robinson of the Portland Trail Blazers is listed two inches taller and three pounds lighter than Cliff.
"He's the same kind of guy, my size, does what I do, basically," Alexander said of Robinson. "He runs the floor, blocks shots, dunks everything. I watched him his last year when they went to the national championship (losing to Kentucky, 67-59 in 2012). He did great."
Alexander is four inches shorter than No. 3 NBA draft pick Embiid, a player Cliff has followed closely.
"He's like a brother to me," Alexander said. "He tells me, 'Take everything step by step, don't rush into anything, take your time with everything.'"
Alexander also is soaking up pointers from big-man coach Norm Roberts and KU's other bigs.
"Jamari (Traylor) ... I see him every time in practice. He runs the floor, works hard, tries to get every loose ball he can. He leads me, telling me what I need to do. I follow him. He leads by example," Alexander said.
"I watch Perry. He can score down low at will, run the floor. Landen (Lucas) has been here three years now. He's telling me what I need to do, to keep working. He did the same things I'm doing, and it got him far. I just listen to him."
Alexander said he's elated to be at KU and play a style of ball he says fits him.
"I like to get the ball down low, and that's what he (Self) does, gets the ball down low," Alexander said. "I can see myself fitting in perfectly. That's one of the reasons I chose here, because of his history, how he gets his players to the pros through a great system."
Alexander's being here came as a result of a long recruiting effort.
"I want to say my sophomore year, coach (Kurtis) Townsend was recruiting me. Coach (Jerrance) Howard came in and took over and started recruiting me. What made me choose here is coach Self and history of developing his players and getting his players to the pros. And it feels like family. I love it," Alexander said.
Naadir drafted: Former KU point guard Naadir Tharpe was selected by the Los Angeles D-Fenders in the second round of Saturday's NBA Developmental League draft. It is the Lakers' D-League affiliate.
"My whole life I've always wanted to be a Laker #FACTSOFLIFE Praise Be To Allah," Tharpe wrote on Twitter.
Speaking of T-Rob: The Trail Blazers recently declined a $4.7 million team option, meaning he'll be a free agent after this season.
"Of course I'm disappointed. But, like I said, them not picking up my option is not something that's going to stop me from being successful," Robinson told the Oregonian.
"It's a business. That's all you've got to understand. You've got to realize that it's bigger than you sometimes in this league. I know I belong in this league, I know I'm a worthy player in this league. I actually think I'm above average if I had the chance. But, like I said, it's all about just working and understanding that it's a business. You can't take anything personal.
"Any individual motivation that I got is coming from within me, not from the team not picking up my option or nobody not believing in me, quote unquote, or whatever anybody could possibly bring into the situation. This is all about me working harder.