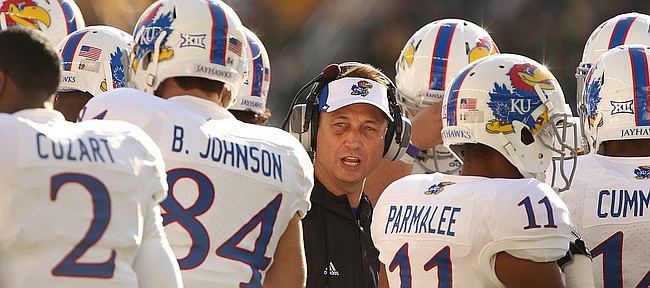 Photo Gallery
Kansas football v. Baylor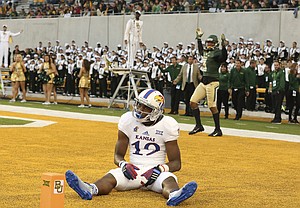 Images from Saturday's game between the Jayhawks and Bears at McLane Stadium in Waco, Texas.
BAYLOR 60, KANSAS 14
Waco, Texas — The Kansas University football team debuted a slightly new offensive look during Saturday's 60-14 loss to No. 12 Baylor, as wide receivers coach Eric Kiesau took over play-calling duties after being promoted to co-offensive coordinator.
KU officials announced the move shortly before kickoff and, after the game, interim head coach Clint Bowen explained it.
"We've wanted to try to open things up a little more, create a little bit more of an offensive identity that we want to move to," Bowen said. "And Eric has a little bit more experience running that type of offense and him and co-offensive coordinator John (Reagan) are gonna continue to work very closely together to try to get a little bit of a spark on offense."
That spark showed up ever-so-dimly in the passing game on Saturday, though it hardly had an impact on the outcome. Four different Jayhawks caught four balls or more and quarterback Michael Cummings finished 21-of-30 passing for 288 yards and two touchdowns.
Asked after the game about the change, Cummings sounded encouraged, despite opening his postgame meeting with the media with a simple, but telling, phrase: "Long day at the office," he said.
"I enjoyed it," Cummings continued. "I think it went well. It was tough debut for it, playing against Baylor on Homecoming."
Kiesau spent Saturday afternoon on the sideline and called plays from there. His partner-in-crime, Reagan, who was brought in during the offseason by former KU coach Charlie Weis, continued to work from the booth but did not call plays as he had done during the Jayhawks' first seven games.
In addition to changing the way games are called, the switch figures to allow Reagan to focus more of his attention on coaching the Jayhawks' offensive line.
Kiesau, who joined the KU staff last spring, has experience as an offensive coordinator at both Washington and Colorado.
Heeney the ball carrier
With short-yardage issues plaguing the Jayhawks during recent weeks, Bowen elected to put senior linebacker Ben Heeney (10 tackles) into the game for a fourth-and-two play on the Jayhawks' first drive of the second half.
Heeney, who ran for 2,083 yards and 39 touchdowns at running back as a senior at Hutchinson High, got the carry but received next to no blocking and officially was stopped for no gain despite breaking a tackle to get back to the line of scrimmage.
"It kind of sparked the interest when he had the interception in the (Texas) Tech game and he ran like a mad bull," Bowen said. "We were struggling to find a short-yardage back and if you're gonna put the ball in someone's hands that has intentions of getting things done, Ben Heeney's a pretty good candidate to do that."
Asked if the idea was his or Heeney's, Bowen joked, "Probably his. Forever."
Despite Heeney putting fear into the hearts of offensive players throughout the Big 12, Cummings said he felt very comfortable with him lined up behind him.
"I was excited for him to get out there," Cummings said. "Kind of a flashback for him to his high school days. I was hoping he'd get a chance to get into the end zone."
Scary moments Two Jayhawks were carted off the field with injuries during Saturday's loss. The first was freshman defensive back Derrick Neal, who made a tackle on a kickoff return and stayed down on the turf for several minutes after the stop.
Neal, who was injured with 6:44 remaining in the first quarter, was able to get to his feet and walk to the cart and he appeared to be wearing a brace on his neck.
Midway through the second quarter, senior defensive tackle Keon Stowers went down during a play by the Baylor offense and did not get up before being strapped down to the cart in three places.
Both players were taken to the hospital for further evaluation and both were said to be communicating and showing movement. Bowen did not have any update on their condition after the game, but he said their injuries impacted the KU sideline.
"It's hard," Bowen said. "It brings back the reality of football sometimes and injuries do happen and those are our teammates and kids that we care a ton about. It pulls at you a little bit when you see those guys going through those type of situations."
No way, Mann
KU running back De'Andre Mann did not make the trip to Waco. Bowen said he was back in Lawrence nursing an injury.
"It's injury-based," Bowen said. "He's a great young man. There's absolutely nothing wrong on his (end)."
As for when Mann might return?
"Possibly this week," Bowen said. "It's more of a day-to-day deal."
Junior linebacker Jake Love also was limited because of injury but did play.
"He's fine," Bowen said. "He'll continue to get better and better. His isn't a major deal, more of a slow-you-down kind of deal."
This and that...
The Jayhawks won Saturday's opening coin toss and chose to defer their choice to the second half. Baylor elected to receive the first-half kickoff.... Baylor's 60 points were the most given up by KU this season and the most put up against a KU defense since Texas A&M; scored 61 in 2011.... The 669 yards by Baylor also marked a season-high against KU's defense and the most surrendered by the Jayhawks since giving up 743 yards to Baylor last season.... KU's 16 rushing yards marked the offense's worst output since rushing for just 11 yards in a loss against Oklahoma in 2005.... Temperature at kickoff was 61 degrees, under sunny skies with light winds out of the south.