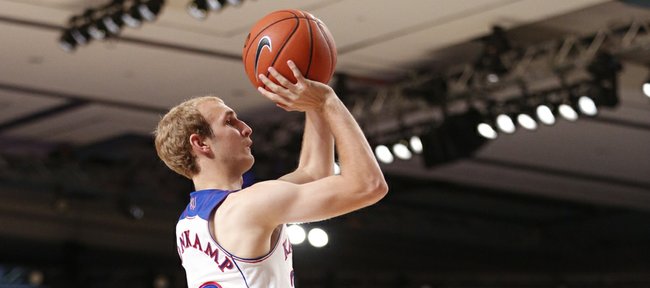 There were unconfirmed whispers last spring that Kansas University guard Conner Frankamp was considering a transfer to Creighton.
Nothing ever came of the Internet message-board rumors, but they were so prevalent it made inquiring media minds wonder Friday whether the current Jayhawks had any inkling the 6-foot sophomore indeed had interest in playing somewhere else.
"No," sophomore guard Wayne Selden Jr. said, asked if he knew Frankamp, who announced plans to transfer from KU to a yet-to-be-determined school, ever was thinking of leaving. "It came as a shock to me as well.
"He's just a great person, great player to be around," Selden added. "He became one of my best friends. It's the business we're in. This is what it is. It's hard when you don't see it coming. It's hard to really grasp it, not having him there, not having him in the locker room. Not having him around ... it's going to hurt."
Junior forward Perry Ellis, who like Frankamp is from Wichita, stated: "I didn't actually see it coming. He was doing real well. He only knows what's best for himself. Only yourself knows what you want to do and need to do. We're all behind him. We're all going to support him. He's a great guy, always about the team first, just a great guy, overall guy."
Frankamp on Friday said he wanted to go to a school where he'd have a bigger role. Though coach Bill Self said Frankamp figured to be part of the rotation, nothing was guaranteed with so many standouts on the perimeter. A meeting between Self, Frankamp and Frankamp's dad Wednesday apparently didn't satisfy the Frankamps as far as vision for Conner's future role in the program.
"It goes from seven great guards to six great guards," Selden said. "A lot of competition is still there. I don't think the competition is going to dwindle. I feel it might even pick up more now.
"I'll probably have to play more point here and there," Selden added. "We've got two great point guards here as well (Frank Mason, Devonté Graham). I'm pretty good with that."
Frankamp was expected to be a deadly threat from three-point land his soph season. Brannen Greene and Sviatoslav Mykhailiuk are also known as NBA-range three-point shooters.
"We definitely have some other great shooters. He's definitely a terrific shooter," Ellis said. "I feel we have other players that can step up and knock down some shots."
Transfer talk: At KU's Media Day, the Journal-World asked Frankamp if he had considered transferring after his freshman season.
"I didn't think about that too much," he said. "I was just trying to work on my game and if I got the opportunity to come in there and help as much as I could."
Eligibility: Frankamp will enroll at his new school for second semester, thus he'll be able to play at the end of first semester of the 2015-16 season, which is usually mid-December.
"He would have to sit a year and a half to get three (years) back, so if he were to transfer at Christmas and you sit a year, he's already played one, and he'd be missing a third of next year. So really he's going to get about 22⁄3 as far as number of games played, if he becomes eligible next year right after the fall semester is over," Self said. "In order for him to get the full three years, he'd have to sit a year and a half, and I don't want to speak for his family, but they told me that was definitely not going to be the case."
Wichita State is obviously a possible landing spot for Frankamp. Sporting News speculated he might be interested in Butler. Nebraska recently became the transfer destination of former KU guard Andrew White III. Creighton remains a possible fit, along with former KU player Tad Boyle's Colorado program and perhaps former KU great Danny Manning's Wake Forest program. Frankamp has not released a list of potential schools.
Team "behind": Self said he felt the Jayhawks had a long way to go before Monday's 7 p.m., contest versus Washburn.
"I'd say we're a little behind right now, three weeks in. Of course, maybe all coaches say that," Self said. "I think our retention is average. I think our athletic ability is very, very good. I think our length is very good. I think we shoot it better than we have, even though that always remains to be seen.
"We make the game harder than what it is. Some guys are driving it when they should be passing it, some guys are shooting it when they should be driving it. We're just not quite on the same page yet, and I think all teams are probably like that for the most part this early. Of course I thought last year's team stunk starting the season, and we go play pretty well early on against Duke, so you don't ever know."
Recruiting numbers: KU has 11 scholarship players, two under the limit. KU also could lose some players to the pros, meaning Self may try for at least a four-man recruiting class.