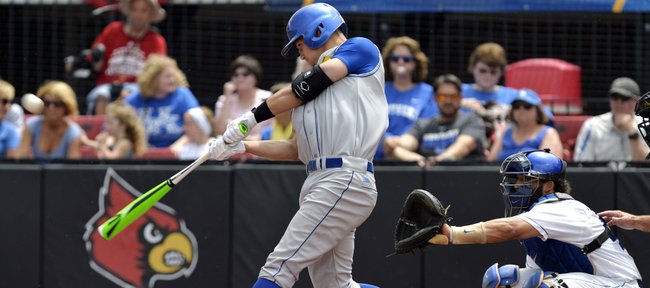 On the heels of a 10-6, opening-day victory over No. 22 Kentucky in NCAA Tournament regional action, the KU baseball program announced early Saturday morning that today's 4 p.m. regional game vs. No. 13 Louisville would be shown on ESPN2.
Louisville, the host team and top seed in KU's regional, knocked off Kent State, 5-0, on Saturday night to set up today's match-up with the Jayhawks at Jim Patterson Stadium.
KU fought through a few hours of weather delays and got big-time performances from several players in its lineup to power past the Wildcats and improve to 35-24 on the season. Louisville's victory improved the Cardinals to 46-15.
Third-seeded Kansas will send senior starter Frank Duncan to the mound for today's game.
With a win today, KU would advance to Sunday's regional championship match-up and would need just one to advance to next week's super regionals. Should KU find itself in that position, whichever team it faced would need to beat the Jayhawks twice to send KU home.
With a loss to Louisville, KU would face the winner of today's elimination game between Kent State and Kentucky in another elimination game on Sunday morning, with the winner moving on to the regional title round and the loser going home.
For those who can't watch today's game on ESPN2, be sure to follow along with Tweets from KUsports.com.
More like this story on KUsports.com