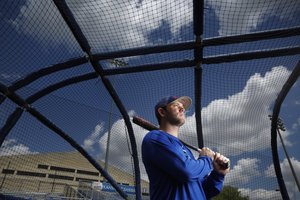 Throughout his youth, Kansas University senior Tucker Tharp watched his two older brothers play important roles for their collegiate teams and always figured that he, too, one day would travel down that path.
Oldest brother Travis was a first baseman at Northwestern, and middle brother Taylor was a back-up quarterback at Boise State during the Broncos' glory years.
While the two older Tharp brothers got the jump on Tucker in terms of playing college athletics, neither had the opportunity to do what Tucker is doing today in Louisville, Kentucky, where the KU baseball team continues play in the program's first NCAA Tournament since 2009.
Tharp's mission is written in three letters under the bill of his hat, and its importance goes far beyond batting averages, fielding percentages and trips to the NCAA Tournament.
"Mom," the tiny message reads. And it serves, every day, as a reminder for Tharp to appreciate the opportunity he has and push forward even during times of trouble.
"That's why I play," Tharp said of his mother, Melinda, a cancer survivor who was first diagnosed with the disease eight years ago. "I play for her."
As if KU's wild ride from preseason pick to finish in the Big 12 cellar to fifth postseason berth in school history was not magical enough, Tharp said having his mother there to enjoy every step with him made it even more special.
Melinda and Tharp's father, Richard, attended as many KU games as they could this season — home or away. Although they could not make the trip to Louisville this weekend, they're likely parked in front of a laptop pulling for the KU center fielder and his teammates to find a way to keep playing for another weekend.
"We've always been a sports family," said the Boulder, Colo., native, who came to Kansas as a walk-on and went on to become a three-year starter and co-captain this season. "That's what we're all about. The support I've gotten has been awesome, and it's helped me get through a lot of different things."
A chance to follow in his brothers' footsteps and play big-time college athletics was all Tharp hoped for as a senior at Fairview High. And, after visiting him in Boulder and watching some on-field batting practice, KU coach Ritch Price gave Tharp that chance in the form of an invitation to walk on. Price felt good about the decision back in 2011, but he's much more pleased with it today.
"I couldn't be more proud of that guy," Price said. "He's a non-scholarship player that I gave a roster spot to out of high school, and he doesn't get his first action until, like, Game 46 of his freshman season, and now he's a three-year starter and a team captain. He's getting draft cards from scouts, and I hope he gets an opportunity to play (professionally) because he exemplifies everything that our program's about. He's a first-class person on the field, and off the field he's a great teammate and a great competitor."
The laid-back and humble Tharp admitted that those draft cards Price talked about came from just one National League scout. But it was a proud moment, nonetheless.
"It was brief, but it was an honor," Tharp said. "You play four years of college, eight years counting high school, and it was cool just to get recognized. Just to know that somebody saw something was pretty cool for me. It was something cool to share with the other guys on the team and my family."
Whether anything pans out with a major-league organization is not on Tharp's mind quite yet. He's scheduled to graduate in December and hopes his career as a KU athlete will stretch for a couple more weeks.
Many of his teammates are hoping for the same thing, not only so they can taste the thrill of winning in the postseason but also so they can maximize their time playing alongside Tharp.
"I really can't say enough about Tucker," fellow senior and co-captain Ka'iana Eldredge said. "Great guy, great teammate, awesome leader."
Countered Tharp: "A lot of the on-the-field memories are really special and things I'll remember forever, but the thing I'll have the hardest time leaving is just the guys and the locker room and the day-in-day-out grind and going through it with guys who have become like family."