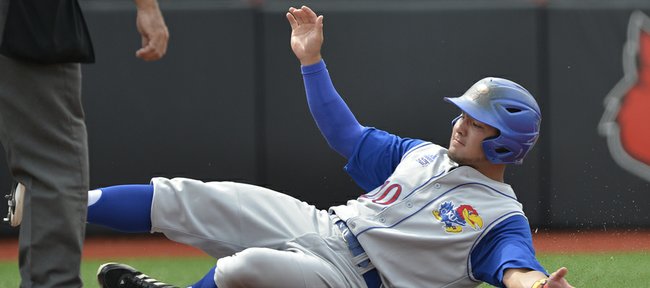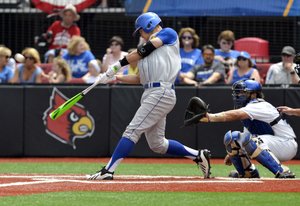 Louisville, Ky. — After Ritch Price's program went five seasons without an NCAA Tournament appearance, the coach's Kansas University baseball players didn't mind spending long stretches of Friday afternoon killing time at Louisville's Jim Patterson Stadium.
Three weather delays prolonged KU's regional opener against Kentucky a total of three hours and 22 minutes. After the third moratorium on baseball caused a near-two-hour halt in a tie game, the Jayhawks scored four runs combined in the seventh and eighth innings, while reliever Drew Morovick and closer Stephen Villines held the Wildcats scoreless to help Kansas move on to today's winner's bracket with a 10-6 victory.
With style, senior Tucker Tharp put Kansas (35-24) ahead for good in the top of the seventh — slapping an RBI double off the left-field wall. He later scored from third, making it 8-6, when senior Ka'iana Eldredge hit into a double play with no outs.
"It is difficult when you stop and go, stop and go," Tharp said after going 3-for-5 with three RBIs. "You have to warm your body back up after every time you stop, but once it's game time, you want to check it in and battle and want to be prepared as much as you can, even after sitting in the locker room for three hours today. It's a long day, and I thought the guys did a great job getting ourselves ready to go and competing at the plate."
Junior shortstop Justin Protacio kept the Jayhawks going in the eighth, providing a 9-6 advantage when he drove in sophomore Tommy Mirabelli, who had just led off with a triple. Protacio later scored on a wild pitch from Kentucky reliever Chandler Shepherd, who threw the final four innings and took the loss.
Protacio said the Jayhawks made the most of a long afternoon.
"We were just listening to some music and telling stories with each other. Just talking about the season and how close we are as a team," Protacio said. "There is great senior leadership on our team. They stepped up and said, 'Cut the games,' after each delay when it was time to get back on the field, and we all got serious again."
The Jayhawks and Wildcats (35-24) were tied, 6-6, when along came the second in-game weather delay. This one, induced first by rain and hail, then prolonged by nearby lightning and threatening storm cells, put things on hold in the bottom of the fifth for an hour and 50 minutes.
When play resumed, junior right-handed reliever Morovick took the mound for Kansas and went 3 1/3 innings, allowing one hit and no runs — making it possible for the Jayhawks' lead to grow. He handed the ball over to freshman Villines in the eighth, and the righty coaxed the final five outs of KU's first postseason win since 2009.
Kentucky opened the bottom of the fourth against Kansas starter senior Jordan Piché with three consecutive singles off the bats of Micheal Thomas, Storm Wilson and Thomas Bernal. Both Thomas and Wilson scored on Bernal's knock up the middle, which tied the game at 6.
Kentucky leadoff hitter Austin Cousino's hustle turned what would have been a single into a double in the bottom of the third, and he scored to cut Kentucky's deficit to 6-4 after advancing two bases — first on a Piché wild pitch, then on a passed ball.
Early in the game, the Jayhawks' offense couldn't be stopped. KU scored three runs apiece in the first and second innings. Michael Suiter drove in Protacio to make it 4-3 in the top of the second. Soon after, KU led, 6-3, once Tharp drove in Suiter and sophomore Colby Wright with a base hit to the right side.
Even before the rain could slow down the game's progress, Kansas bolted to a 3-0 lead in the top of the first. Suiter's sacrifice bunt down the first-base line plated KU's first run. Protacio led off with a walk and ended up at third base when Kentucky starting pitcher Kyle Cody threw the ball away on a Wright bunt. KU went with back-to-back bunts, and Suiter's sent Protacio home.
Cody, who wouldn't return after an hour-plus rain delay broke up the top of the first, gave KU more help before he left. His wild pitch moved Wright to third base, just in time for Dakota Smith to knock him in with an RBI double to the left-center gap.
Next, Mother Nature did the Jayhawks a favor. Following a Tharp single, he took off to steal second base just as the sky began to dump a downpour on the field. Wildcats catcher Thomas aimed to catch Tharp in the act, but the slick ball sailed on him, and Smith scored to put the Jayhawks up 3-0 just before the game's first weather delay — which lasted an hour and three minutes. Smith left the game after injuring a knee on the play, and was replaced by freshman Joven Afenir, who went 3-for-4.
Six hours and 16 minutes passed from first pitch to final out.
Said Price: "First off, that's one of the most unusual games I've ever been involved in. I don't know if I've seen two delays as long as those two were, and I was really proud of the toughness our team showed and the competitiveness they showed to be able to fight through those delays and execute offensively with our short game."
KU will face Louisville at 4 p.m. today. It was announced Saturday morning that the game will be aired on ESPN 2.
Louisville, the region's top seed, beat Kent State, 5-0, on Friday. Kent State and Kentucky will meet in an elimination game at noon today.
Kansas 330 000 220 — 10 13 0
Kentucky 301 200 000 — 6 9 2
W — Drew Morovick, 10-4. L — Chandler Shepherd, 5-5.
2B — Dakota Smith, Colby Wright, Tucker Tharp, Kansas; Austin Cousino, Matt Reida, Kentucky. 3B — Tommy Mirabelli, Kansas. HR — Ka'ai Tom, Kentucky.
Kansas highlights — Tharp 3-for-5, 3 RBIs, R; Joven Afenir 3-for-4, R; Mirabelli, 2-for-3, R; Wright, 1-for-3, 2 Rs; Justin Protacio, 1-for-3, 3 Rs; Michael Suiter 1-for-4, 2 RBIs; Smith 1-for-1, RBI, R; Morovick, 3.1 innings, 1 H, 1 K, 0 Rs.
More like this story on KUsports.com