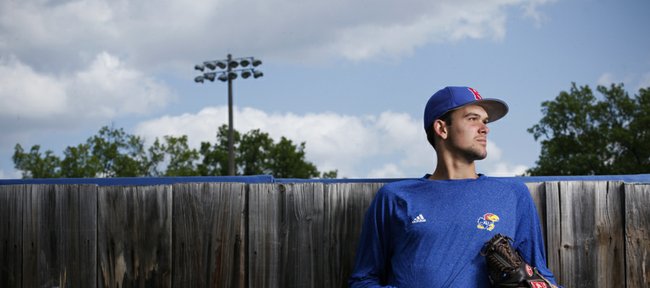 At first glance, Kansas University freshman pitcher Stephen Villines looks a lot like you would expect a first-year player to look — tall, lanky, perpetual smile on his face and not a care in the world.
Just be careful, though, if you're around Villines when "Bulls on Parade" by Rage Against the Machine comes on the speakers.
That song is the KU freshman's switch, and any time it was played near the end of home KU baseball games this season, Villines transformed from laid-back newcomer to cut-throat closer on his way from the bullpen to the mound.
"It's kind of a long jog," Villines joked. "But that's when I know it's time to go."
Credit for the song choice goes to Villines' older brother, Ben. Credit for just about everything else Villines' has accomplished so far at Kansas goes to the Lake Forest, California, product's demeanor.
If not for the way he executed his craft — one strike after the next, pinpoint accuracy, fantastic command — one might think Villines did not care all that much about what happened when he went to the mound. But it's the competitor behind that happy-go-lucky exterior that allowed Villines to lead the Jayhawks in saves (8) and fill one of the game's most important roles, despite inheriting it just a few months after receiving his first Div. I scholarship offer.
"As a senior talking to a freshman, you want to make sure your freshman's OK and not putting too much pressure on himself," senior catcher Ka'iana Eldredge said. "With Stephen, I've never had to do that."
Villines has been ultra-reliable, from his first college games to more recently, when he picked up four saves during a nine-game sweep of Big 12 foes to close out KU's conference schedule and eased the sting of a season-ending injury to staff ace Wes Benjamin. Villines' development as a no-brainer option in the ninth inning has allowed senior Jordan Piche' — last year's Big 12 newcomer of the year — to slide into Benjamin's Friday night starter role. Villines said his relationship and conversations with Piche' helped him adjust.
"There was no role discussion," Villines said. "But I've talked to him about how to deal with the pressure and all that. He just said, 'Don't let the moment get too big. Just focus on yourself and do your job.' You gotta throw strikes."
Villines has done that. In 40.2 innings and 25 appearances, the freshman has given up just seven earned runs and walked 22 of the 142 batters he's faced while striking out 22 and limiting opposing hitters to a .211 average. His 1.55 ERA is tops on the team. Two of those 22 walks came in his first college appearance, a 9-8 win over Milwaukee. He followed that up by walking just one batter in his next 11 outings.
Although he has made the most of his early opportunity with the Jayhawks, Villines said he still has days when he remembers how close he was to not getting this kind of chance. As a senior at El Toro High, after two seasons as a varsity closer, no Div. I programs had shown interest in the right-hander. Villines had all but finalized arrangements to enroll and pitch at Saddleback Community College, 20 minutes from his home town, but a friend of a family friend knew KU coach Ritch Price and mentioned that Villines was looking for a place to play ball. Price took a look, liked what he saw and offered a scholarship. The rest was up to Villines, and he's made every moment count since.
"The campus, the baseball program, all the coaches, they really made it very appealing," Villines recalled. "All that combined with the chance to play at a D-I school was definitely a big opportunity. It's crazy how it works, but however, right? As long as I'm here."
More like this story on KUsports.com