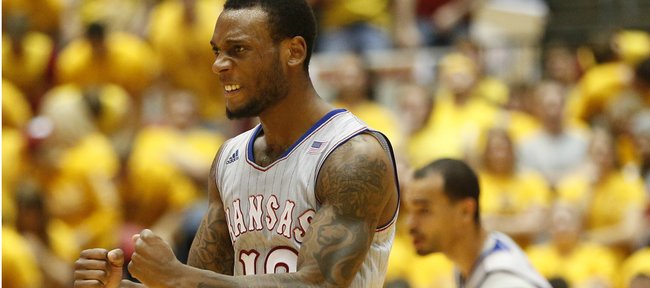 Providence and UMass have emerged as possible transfer destinations of former Kansas University point guard Naadir Tharpe.
CBSsports.com's Jeff Borzello tweeted on Tuesday that the 5-foot-11 Worcester, Massachusetts, native is being pursued by both schools. Playing overseas also was listed as an option for Tharpe, who announced his decision to transfer from KU on May 1.
He cited wanting to be close to his daughter, who has had some health problems in the past.
If Tharpe, who will be a senior, is granted a waiver by the NCAA, he'd be eligible immediately, meaning UMass would have a crowded backcourt with Tharpe, 6-3 Derrick Gordon, 6-0 Trey Davis and 5-11 former West Virginia player Jabarie Hinds. Masslive.com reports that UMass does not have a scholarship available.
As for Providence ... Tharpe actually committed to coach Ed Cooley's program out of high school, but ultimately reopened his recruitment. Cooley will be beginning his fourth year at Providence.
Providence returns guard Kris Dunn and is bringing in highly-touted recruit Kyron Cartwright.
Wiggins workouts: In preparation for the 2014 NBA Draft and ensuing NBA summer league, Andrew Wiggins has been working out diligently in Santa Barbara, California, with trainer Drew Hanlen of the company "Pure Sweat."
"I would say a lot of go-to moves from the mid-post, staying low on my dribble," Wiggins told ESPN.com's Chad Ford, when asked what's been emphasized the most.
"Fixing my shot," Wiggins added. "It doesn't need too much fixing. I'm trying to perfect my shot (but) you can't perfect anything."
Hanlen also has had Wiggins study film.
"I've been watching a lot of Paul George, Kobe (Bryant), (Michael) Jordan and T-Mac (Tracy McGrady) videos," Wiggins told Ford, who was invited to watch a workout last weekend. "Just seeing the variety of ways they score, their demeanor, just their work ethic."
Wiggins provided Ford with his case for being the No. 1 overall pick in the June 26 draft. Cleveland owns that top pick.
"I think I'll give them what they need. I'm going to try my best to take the organization to a different level, a level it hasn't been to before," Wiggins said. "I'm going to give my all. I'm going to give the fans what they want. I'm going to give the coaches what they want. I'm going to try my heart out and be the best I can be and best I can be for the team."
Of Wiggins' film study sessions, Hanlen told Ford ... "I normally never pull Jordan or Kobe video for players because, truthfully, they just can't do what Jordan or Kobe could do athletically. Wiggins is the first player I've trained who has that capability, athletically, to do some of the things those two have done. It's just a learning process for him now. He's gotten by on his athleticism his whole life. Now it's about really learning what makes players like that special from a skills standpoint and a mentality standpoint. He was hesitant at Kansas and as he improves his skills, I'm starting to see him develop confidence and a killer mentality that will be necessary at the next level. He's been like a sponge. The improvement over the past few weeks has been incredible. I think in a few more weeks he's going to blow people away in workouts."
To read Ford's article, click here.
Gonzalez twins transfer to UNLV: Kansas University women's basketball guards Dakota and Dylan Gonzalez have been released to transfer and will head to UNLV, KU coach Bonnie Henrickson announced Thursday.
Dakota Gonzalez averaged 4.4 points and 2.0 rebounds over 17.3 minutes a game during her freshman season at KU. Dylan Gonzalez averaged 1.1 points in 2.8 minutes a game, but made just nine appearances to twin sister Dakota's 30.
More like this story on KUsports.com