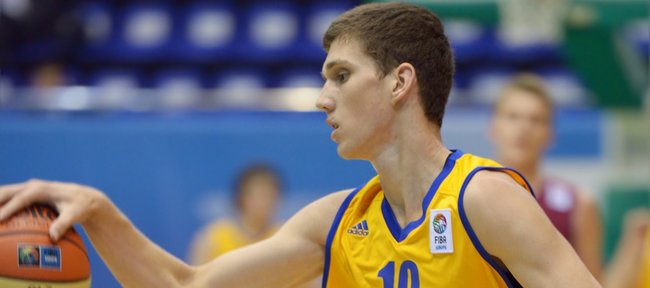 Podcast episode
KU track and field throws coach Andy Kokhanovsky, also from Ukraine, demonstrates correct pronunciation of Sviatoslav Mykhailiuk.
Last season's recruitment of an international man of mystery went so outrageously well until 7-foot center Joel Embiid of Cameroon suffered a season-ending back injury that basketball fans of Kansas University's perennial powerhouse program can't wait to see Ukrainian prodigy Sviatoslav Mykhailiuk take the court in Allen Fieldhouse for Late Night.
Not even Fran Fraschilla, ESPN analyst and former Div. I coach at multiple schools, professes to have a good guess as to how ready Mykhailiuk is for all that comes with competing in the Big 12, and Fraschilla knows the overseas basketball market better than anyone in the American media.
"If he were in the Class of 2015, he would be one of the top 10 or 15 players in the U.S.," Fraschilla said by phone from his home in Dallas. "Would that translate to him being a star at Kansas right now? That's a question that's not easy to answer."
Fraschilla is ESPN's foremost expert on European prospects and is the go-to guy on NBA Draft night. He said he is "fascinated" by the Mykhailiuk signing for several reasons. For one, unlike most overseas recruits, Mykhailiuk did not ease his way into college basketball by first playing at least part of his high school career in the U.S. For another, he's so young.
Embiid turned 20 on March 16, after watching KU in the Big 12 tournament and before watching the NCAA Tourney. Mykhailiuk won't turn 20 until June 10, 2017, after his third season at KU, should he decide to stay in college basketball for that long.
"He'll be the youngest player at the high-major level," Fraschilla said. "As much as he's a really talented player, given the fact Kansas added some depth in the backcourt, they don't necessarily have to throw him to the wolves."
Mykhailiuk played for the World team vs. USA in the Nike Hoops Summit on April 12, 2014 in Portland, Oregon. KU recruit Kelly Oubre totaled 15 points and five rebounds in 24 minutes, helping his team to an 84-73 victory. Future teammate Cliff Alexander had six points and two boards in 21 minutes. Mykhailiuk played 13 minutes, scored two points and had two turnovers. He made one of four shots from the field and misfired on all three three-pointers.
"The first time I saw him live was at four days of practice at the Hoop Summit," Fraschilla said. "He's the youngest player ever to play in it, and he played much better in practice than in the game."
Mykhailiuk has been listed on various rosters as being as tall as 6-foot-8, as short as 6-5. Fraschilla called him a "6-6 guard. He's put-together, pretty physically mature for his age. If he were walking on campus and someone said, 'That guy plays quarterback for Kansas,' you'd say, 'Oh, OK.' He's pretty stout and stocky for his age."
Mykhailiuk fared much better in the European championships for players 16 and under, where he averaged 25 points and eight rebounds per game, than at the Hoop Summit.
He also played for his town's professional basketball team, the SK Cherkasy Monkeys, but did not draw a paycheck. Players under 18 can't sign contracts in European leagues.
"He played in a league that is not necessarily at the highest level in Europe," Fraschilla said. "He was competing against men, and it's a physical league. He definitely played a physical brand of basketball there, and he held his own. I would say that league is probably like mid-major, close to high-major Div. I level."
Fraschilla rattled off the names of the some of the former college players who were making a living in the league. He mentioned one noteworthy alumnus, guard Patrick Beverley, a big-name Chicago guard who played college ball for Arkansas who now plays for the Houston Rockets.
Mykhailiuk averaged 5.8 points for the Monkeys in the Ukrainian Superleague.
He shows on YouTube a soft touch from long range, excellent radar as a passer, an impressive vertical leap and a tight handle, all of which makes him an outstanding prospect. The question then becomes the same as one asked often about Embiid in advance of his one season at Kansas: How soon will those physical gifts come together well enough for him to stand out as a Big 12 player? His presence makes a never-dull program all the more interesting, of that there is no question.
More like this story on KUsports.com